The History Of The Ouija Board
Published
October 24, 2018
|
By
Laura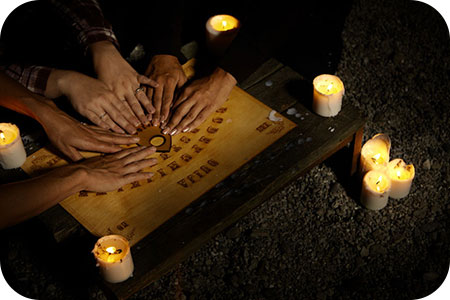 In my opinion the Ouija board is actually not a modern invention. The original concept of the board probably dates back to ancient Babylonian and Egyptian times. I imagine those who were familiar with the mysteries, made their own boards using clay tablets and a pendulum to collect information on just about any subject.
The Ouija board we know today was introduced in the late 1840s when Spiritualism became popular among occultists and secret societies. It was initially more complex, because their methods would involve knocking on the floor in response to letters being called out from the alphabet. Or they would use an intricate device that would have a pencil attached to it, allowing the spirits to guide the inquirer to the letters or numbers on the board.
In 1890, Charles Kennard and some of his colleagues, had the idea to turn this divination tool into a toy. They came up with the name Ouija, because it means "good luck" in Kemetic, the oldest known Egyptian language.
Eventually Charles Kennard left the company in 1891 and William Fuld took over production. Once it was in his hands, he began to create different board designs and now holds more Ouija patents and copyrights than anyone else in history. Fuld also fought several legal battles to combat copycats.
Your consciousness impacts your astrological charts, numerology, cards or whatever tool you are using, for they are all merely symbols encoded at multi levels; and relative to your consciousness… do they reveal their truth! ~ Divyaa Kummar
In the late 1960s, Fuld's estate sold the family business to Parker brothers, who began to manufacture the modern version of the Ouija boards we see today. Eventually, they sold to Hasbro, the toy company who now owns all the rights and patents.
Today, Ouija boards are typically viewed by most people as satanic, evil, or as a portal for demons to enter. Hollywood added more fuel to the fire when they began creating horror movies to strike fear into those who dared to play with the board.
When I was little, there was superstition that if you attempted to burn or throw the board away, it would magically reappear in the same place, or haunt you in other mysterious ways.
I remember getting my first Ouija board at the age of 13 for my birthday. Slumber parties were big when I was younger and it was always something to look forward to.
Most of the girls in attendance were too scared to play with it, but a few of us decided to give it a go. I took the lead and asked the board, "What show is on TV right now?" First, it went to the letter M; then to H; and then to S; followed by the number 4. We had no clue what this meant and all thought it was a fail, or one of us moving it incorrectly on purpose. But, later we turned on the TV and to our shock the channel was set on number 4 and the letters "MHS" stood for The Mike Holmgren Show, the head coach for the Green Bay Packers.
And you shouldn't believe all the press about Ouija boards. They can't be used in an exorcism. Trivial Pursuit can, but that's another story ~ Seanan McGuire
We all couldn't believe this was real and went wild at the idea that the Ouija board wasn't just a game. The story of this experience eventually made its way to my friends' parents, who were on the more conservative end of religion, and they were not happy about it. I eventually felt obliged to throw the board away to keep the peace, because my friends were of more value to me.
That board never came back, but the fascination of connecting with the spiritual world definitely stuck with me. Today, I don't look at any divination tool as evil and find that it's the state of mind or energy field of a specific individual that attracts dark or light entities.
If you are fearful and call out to the spirit world, than you are more prone to attracting a demon or a spirit who isn't so friendly. And if your filled with light, than you have the capability of communicating with supportive, loving guides who want to share deeper truths and offer insight.
Therefore, the Ouija board can be looked as dualistic and considered good or evil, depending on the persons involved in the act of communicating with other spiritual realms.
Source: Mentalfloss.com

About The Author: Laura

Attracting people from all walks of life, Laura has always been the type others come to for advice and direction. An initiated shaman, she's helped others to transcend fear and resolve dark aspects to achieve greatness in life and overcome limitations from the past.Spiritually, she's a mixed bag of traditional meets mystical, blending the best parts of Christian, Jewish and Muslim faiths with intuition and magic. She's been referred to as a witch, but considers herself a shaman. She uses her psychic gifts and divination tools to help you see the truth, awaken your spirit and overcome any problem. Contact Laura for a psychic reading at PsychicAccess.com


Posted in

Mediumship, Paranormal Phenomena, Spirit Guides
|
Tagged

ancestors, beliefs, childhood, communication, demons, divination, duality, Egypt, entities, evil, fear, guidance, mysticism, occult, Ouija board, psychic tools, séance, spirit guides, spirit realm, spiritual messages, spiritual practice, spiritualism, traditions
One Response to The History Of The Ouija Board
This site uses Akismet to reduce spam. Learn how your comment data is processed.