A New Year's Message From Dana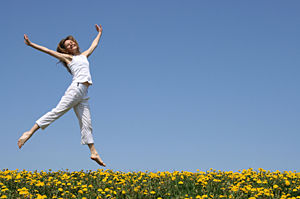 I've met many people in my years of working as a psychic advisor. There are none that left a major impact on me.
However, a young lady named Dana did many years ago. Her message stands as true today as it did when I first met her.
And so off it is we go, into Dana-land. I don't know about you, but any Dana I ever met always lived in his or her own land which was known as 'Dana-land'.
This particular Dana lived in a land like no other. Her land was in a room at an Intensive Care Facility. It was the kind of place where you go when there is nowhere else to go, and when there is no-one else to take care of you.
You see, Dana had been hit in a head-on collision with a truck on her sixteenth birthday and was in a persistent vegetative state, with no prognosis for recovery.
The tragedy of life is not so much what men suffer, but rather what they miss ~ Thomas Carlyle
She was fed through a blue tube in her throat. She could not even hold her head up for more than a few seconds, since she was a paraplegic after the accident.
She also couldn't speak at all. Grunts here and there, that was it, or so I had been told before I met her.
I entered her room that fateful day with no small sense of trepidation. It was fate that led me to her, that much I did know. All else seemed like a very quick blur to me, it happened so quickly.
As soon as I cleared the doorway and Dana saw me, her body went rigid. I thought she was having an attack of some sort and went to reach for the nurse's button. As I did so she grabbed my hair and pulled my face close in to hers.
You can imagine how freaked out I was, this much movement coming from a woman hooked up to every tube under the sun! She looked right at me from a distance of maybe four inches away and blazed a message into my subconscious that I never forgot and try to instill to this day.
To live remains an art which everyone must learn, and which no one can teach ~ Havelock Ellis
"Live," she said to me, from her third eye to my exploding one. "Live for me, because I can no longer do it. Live for me, because when I was alive I didn't truly live and now I have no chance. Live for me and tell others to stop walking around half dead, while they have air in their lungs and are still alive. I can only breathe through this tube".
She then motioned frantically to the blue tube in her throat – one of many.
"They don't want to be like me", she continued. "So you tell them to live!"
At that moment I managed to pull myself from her grasp and she threw her upper body back on the pillow. She kept staring at me the entire time, as if to say, "Don't forget!"
I ran out into the hallway, just as the nurses were going into her room. Mind you, this all happened in the space of a few seconds.
Life is a great big canvas, and you should throw all the paint on it you can  ~ Danny Kaye
I had never met Dana before that day and was only there because the man I was seeing at the time knew her family. I knew nothing of the story that had led her there, until later, when I met her parents and told them about what had happened.
Her mother cried when I shared with her my encounter with her daughter.
"You are a true angel," she said, "and I want to give you something to remember my daughter by".
She then gave me a bottle of perfume, called Angel, which had belonged to Dana.
Two weeks later Dana passed away. Her message had been delivered, according to what her mother said anyway, and she could go in peace.
Now, was she waiting all that time for someone who could hear the thoughts in her mind? I will never know. All I know is, in her honor, may I present to you… a message from Dana…live…its 2011!
About The Author: Asherah

Asherah is a natural born psychic empath born and raised in Kingston Jamaica. An ordained Reverend and High Priestess, Asherah can easily tap into your real truth and help you to see clearly, releasing attachment to outcome by simply focusing on where you are now. Using tarot, numerology astrology and more..you can learn how to communicate your needs today! You can get a psychic reading from Asherah at PsychicAccess.com.


This site uses Akismet to reduce spam. Learn how your comment data is processed.