Fishing With An Angel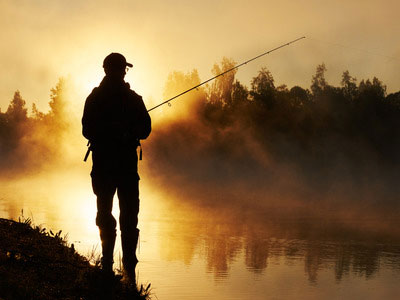 It was early afternoon when my friend Barry and his long-time fishing buddy, Keven, were to head north to the pier, to catch whitefish. Right before he was ready to go he received some news from Keven that their mutual friend Steve had passed in his sleep the night before. Keven said he was now too depressed to go fishing with him, but wished him luck if he decided to go on his own.
I encouraged Barry to go. I felt it would be good for him to have some time alone. He could think about his friend who passed, remember sweet memories shared between them.
I didn't hear him come back home later, as I was fast asleep, but when I awoke in the middle of the night, I looked in the cooler to see how many fish he'd caught. It was filled up pretty good with whitefish. I was happy to know that he had a productive fishing trip, and I fell back to sleep.
Angels come to help and guide us in as many guises as there are people who need their assistance. Sometimes we see their ethereal, heavenly shadow, bright with light and radiance. Sometimes we only feel their nearness or hear their whisper. And sometimes they look no different from ourselves ~ Eileen Elias Freeman
Later that morning, we were having coffee and he shared with me how on the trip up to the pier he did some thinking about regrets, and the last time he saw his friend Steve.
I was very quiet and just listened. He shared how once he got to the pier it was pretty quiet. There were not a lot of people around. So, he found a spot, sat down and had just begun to fish when a man walked up with just a fishing pole. He didn't have a net, nor did he have a stringer or cooler.
The man said, "Just out to see if the fish were in." Barry responded, "Not sure, just arrived here myself." The man was just about to leave when Barry said, "It would be a shame to come down here and not get your line wet."
The man then decided to stay, and immediately caught a fish. "I have no net," he said. Barry grabbed his and netted the fish. The man said he should take the fish, since he has no cooler. This is why there were four large fish in his cooler later that night. He had caught none of them! Barry explained, "They were all beautiful, fair-caught fish."
Apparently, the man also commiserated with him about his friend who had just passed and they fished together for a couple of hours. It was bitterly cold when the man eventually said he was leaving. Barry held out his hand and told him his name and the man introduced himself was "Floyd." Barry shook his hand and said that he hoped to see him again as they parted company.
After listening to this story, I knew right away who Floyd was. He was an angel. I was seeing his new friend, Floyd, right near him. I asked him to tell me what he looked like. Barry said, "5'6, rounded face, partial beard, very average and non-descript." Exactly the same as the angel standing next to him!
Most people never have the opportunity to see an angel, or simply do not look well enough to see them walking among us. This, however, does not mean they don't exist. Me, I'm one of the lucky few. Not only have I seen an angel, I call her my best friend ~ Lori Corkum
I told him that the man is one of his guides. Knowing I'm a psychic medium he didn't question it. He said, "Sure, I believe that!" He felt a peaceful energy around him as he shared space with him on the pier.
Later that day, Barry had thought about it a bit more and told me how at one point they were fishing the pier with heavy braid fishing line, because the zebra mussels can cut your line if you use mono-filament. This braid is nearly indestructible! Yet, when he caught his second fish, Floyd was johnny-on-the-spot with the net and netted the fish just as his line broke, for no apparent reason a foot above the knot. Floyd was able to save not only the fish, but also his lure were in the net. Remarkable.
Barry also recounted how Floyd got his four fish right in the mouth, one right after the other, with no fowl hooked fish, which is what usually happens. Not with these four though. Again, all four were beautifully caught right in a row. "Kind of like a miracle," Barry said.

About The Author: Moon Goddess

Moon Goddess is a third generation empathic healer and seer. She started to give healing readings to people more than 20 years ago. She has always been interested and studied all things metaphysical from a young age. Being hypersensitive she can feel and see things before they happen. Utilizing the Tarot, and with the help of her Guides, she is a source of support for many people all over the world. After he passed over, her grandfather kept his promise and came back to say goodbye and gave her the most amazing experience. Moon knows there truly is a Heaven, and it is wonderful! Sharing her experience has helped many people after they have lost someone, or anyone experiencing some form of grief. Get a reading with Moon Goddess now at PsychicAccess.com.