The Year Of The Dog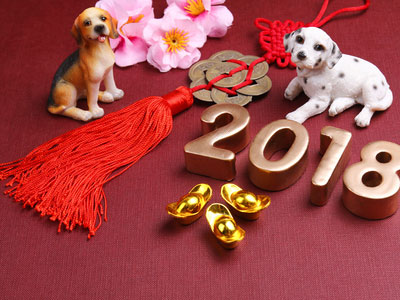 As an aficionado of all things metaphysical, from auras to a zebra jasper crystal, I have always found Chinese Astrology particularly fascinating. I've read any and everything I could lay my hands on and ultimately, I believe, I have come up with my own fundamental basic understanding of it.
I'm a simple woman and as a writer I have found the simple approach is best. Chinese Astrology is based on 12 different animals, and the traits of each species defines the characteristics of each Chinese Zodiac year. If you understand the animal, then you understand the Chinese astrological sign associated with it. You might say it is an easy key to understanding what may initially seem complicated.
According to Chinese Astrology we are entering the Year of the Dog this month. Associated with the element of Earth and the season of Autumn, the closest Western Astrology signs are Scorpio and Libra.
There is no faith which has never yet been broken except that of a truly faithful dog ~ Konrad Lorenz
So, on the most basic level, let us think of the elements of the dog as we know it. Loyalty is one of the main characteristics of canines, as is honesty. Have you ever met a lovable pooch that was able to hide its feelings? I haven't… and at one point I owned (or was owned by) nine dogs! Not one of them was able to hide anything, whether it was their need to go outside, or a sly attempt at grabbing a roasted chicken from the stove. A dog cannot hide how they feel.
And the loyalty displayed by our canine friends is legendary – from a dog sitting, waiting for its owner, long after the owner has passed away, to a dog running after an ambulance with its owner inside. My own dogs I have raised from babies. I am all they know. Their everlasting loyalty to me is evident on a daily basis.
Watch your money in this Year of the Dog. The more loyalty you show your money, the more you will be rewarded. Pay attention to it, treat it as though it were as precious to you as your loved ones, and money will manifest itself more. Conversely if you ignore finances this year, you can have no room to complain when your money ignores you in return!
You can expect friendships and relationships to be tested this year, as those close to you may try to see where your loyalties lie. Things that you may even have thought long since put to bed may resurface. It will depend on how well you tucked it in. But it will also be a year to cement roots that have taken hold, so there will be many engagements and marriages, for example.
This year you will know once and for all who your tribe is, who your pack is. Those that truly love you will emerge and those that you have been around for long enough, those people and situations will leave you.
The one absolutely unselfish friend that man can have in this selfish world, the one that never deserts him, the one that never proves ungrateful or treacherous, is his dog ~ George Graham
If your Chinese zodiac sign is the rabbit – also fun loving and loyal, with a little extra kick – this year will bring love to you for sure. And if you meet a dog person in the Year of the Dog, I'd say grab that leash and run with it! But if you are a dragon, a sheep, or a rooster, it will be best to steer clear of any romantic partners born in the Year of the Dog, unless you choose to make your romantic life hard this year.
Use the energy of the dog this year to take time and get ahead in your life. While things for any dog, unless they are born lucky, can sometimes be difficult, a dog never gives up. Dogs are known for their courage and determination, and if given the chance will always overcome adversity and rise to the top. This can be the year where your loyalty is rewarded and life may smile favorably upon you. So, keep a jar of treats handy for humans and animals alike!

About The Author: Asherah

Asherah is a natural born psychic empath born and raised in Kingston Jamaica. An ordained Reverend and High Priestess, Asherah can easily tap into your real truth and help you to see clearly, releasing attachment to outcome by simply focusing on where you are now. Using tarot, numerology astrology and more..you can learn how to communicate your needs today! You can get a psychic reading from Asherah at PsychicAccess.com.