My Experience With Aura Imaging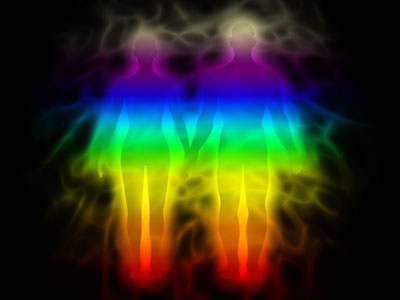 I recently came across a photograph of myself which was taken using an aura imaging camera. The aura camera is a bio-feedback imaging system which translates a person's energy measured from electromagnetic impulses of the hands into an individual pattern and personal colors which represent the aura.
The pattern of vibrant colors is overlaid onto an instant photograph of the person, to give a visual impression of what an aura would look like to psychics and mediums who are able to see auras.
An aura photograph gives us information about the physical, emotional, mental and spiritual balance of a person at the time it is taken, and can therefore be used as a basis for further analysis of an individual's potential.
The photograph of my aura I recently found is 17 years old, and was taken at a psychic fayre in London. In hindsight, that photograph of my aura was very relevant to what was going on in my life at that time, and really accurate.
We are making photographs to understand what our lives mean to us ~ Ralph Hattersley
In the picture my aura was a rainbow of indigo, blue and green glowing unevenly from my left and reaching up over my head to my right. Looking at it now makes me think back to what was going on with me, both emotionally and physically. It was a challenging time for me, working in an environment which felt very harsh and alien, and where many life lessons were learned.
I had entered that corporate work environment temporarily in order to get my footing in another country, so I was, of course, in my element at the fayre that day, being among all of the 'other worldly' items on display and having easy access to talks by well-known international speakers. It was a wonderful respite.
There has been some controversy around aura imaging and its accuracy has been disputed, but I have found my own experience, and that of friends who also had aura images taken, to be fascinating. The process shouldn't be confused with Kirlian photography. In Kirlian photography one may feel a slight current of electricity, as a charge is sent to a plate. Aura imaging sends no charge to the subject, but uses a biofeedback device with which personal qualities can be measured through contact with our hands.
A friend who accompanied me to the fayre had very different colors in his aura image. His were much more connected to base colors, so I don't think his true motive for taking me to this event was entirely for spiritual reasons. The color in his aura image was predominantly red, which relates to physical activity… and 'earthy' or sensual things!
I have a tendency to interpret the colors in my photograph as I personally interpret colors, but I have also referred to the leaflet I received together with the aura image at the fayre that day. These are the color guidelines which came together with my aura image.
The camera is an instrument that teaches people how to see without a camera ~ Dorothea Lange
Red – Physical activity
Orange – Creativity and will
Yellow – Intellect and rationale
Green – Healing, balancing and trustworthy
Blue – Inner peace and security
Violet – Mystical, intuitive, harmony and bliss
White – Spirituality, love
In the photograph, my right side (intuitive side) is encompassed by a thick band of indigo, then a thick band of lovely green softly turning into blue. This continued over my head and down my left side, almost egg shaped, although the bands of color varied in width from side to side.
The psychic reader who took the photograph said that his interpretation of the bands of indigo, green and predominant blue on my right hand side showed how I had manifested this current change of circumstances in order to experience another form of communication in the corporate world, and to touch others with my message about spirit.
He further said the indigo, green and blue on my left side (logical side), suggested that I would soon be in a position to express my passion again, which has always been spiritual work, combining healing and readings, and that there were approaching energies, bringing growing awareness of my true spiritual essence. He said I would be giving more attention to my own emotional needs, finding a positive way to center myself, and to focus on my personal goals.
He also pointed out that the band of green and white above my head, indicated that I had already used my spiritual and healing gifts significantly in the past, as well as giving of myself and my time where I could. Now I just needed to trust that I am fulfilling exactly what I set out to do in my life path.

About The Author: Shani

Shani is a qualified practitioner in Reiki, aromatherapy, reflexology, body spin, and animal telepathy who received psychic development training at the Arthur Findlay College of Psychic Research in England. A published writer, her articles and predictions have appeared in several respected magazines and on psychic websites, and she has read for many celebrities and even heads of state in Africa. Though she was born in London, Shani has traveled the globe and has studied the art of African Mysticism, bringing her unique flavor to those seeking her incredible talents. Get a reading with Shani at PsychicAccess.com.