My Annual Visit To Grandpa's Grave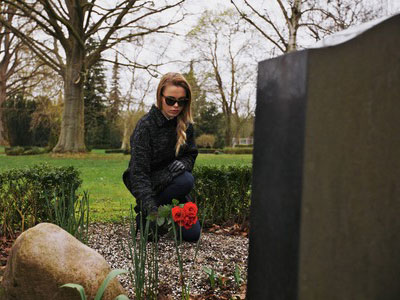 I thought it was time to visit my Grandfather's grave again and bring him some treats that he asked me in life to bring him from time to time. It is a several hours drive, but the trip is never quiet or lonely, because he is usually sitting next to me in the car.
On his trip, he kept telling me I was the "best granddaughter ever." And I kept telling him, as I always did when he was alive, that I was his "only granddaughter!" Although now, as time as passed, he has several great granddaughters.
We telepathically talked about many things as we drove along. I could hear his voice, it was crystal clear. It still sounds the same as when he was in this life.
We talk about heaven being so far away. It is within speaking distance to those who belong there ~ D.L. Moody
Arriving at the graveyard, I parked the car and popped the trunk to get the plastic box that contained the items he requested I bring him every so often:
One packet of M&M's.
A can of soda pop
A stick of Big Red cinnamon-flavored gum.
One scratch card lottery ticket (which I am allowed to scratch off only once I am there at his tombstone)
At his grave, I laid out the blanket and started cleaning up the area. Then I poured the pop out onto the ground nearby and laid the stick of gum and M&M's on his tombstone. Finally, I scratched the lottery ticket and discovered I had won the usual $10 (sometimes $20) that I have been faithfully winning since I have been doing this for the past 14 years.
I always bring a deck of cards and play a round or two of solitaire while I am there, and I always feel his hands on my shoulders confirming he is there with me. I think he knows I enjoy that, as I told him in life how cool it was his brother put his hands on my shoulders during his funeral back when I was really young.
He spake well who said that graves are the footprints of angels ~ Henry Wadsworth Longfellow
Before I leave, after I returned everything to the trunk of the car, I always walk one last time back to his tombstone, to touch his engraved name. There is always a light breeze that faithfully comes to give me a hug. I always have a wonderfully warm feeling as I leave, and drive past the home in which he and grandma lived for many years. He is buried right next door to that home with so many wonderful memories. I was so lucky to share such wonderful times with them there, before our world became such a very different place.

About The Author: Moon Goddess

Moon Goddess is a third generation empathic healer and seer. She started to give healing readings to people more than 20 years ago. She has always been interested and studied all things metaphysical from a young age. Being hypersensitive she can feel and see things before they happen. Utilizing the Tarot, and with the help of her Guides, she is a source of support for many people all over the world. After he passed over, her grandfather kept his promise and came back to say goodbye and gave her the most amazing experience. Moon knows there truly is a Heaven, and it is wonderful! Sharing her experience has helped many people after they have lost someone, or anyone experiencing some form of grief. Get a reading with Moon Goddess now at PsychicAccess.com.