Being "Spaced Out" And Omnipresent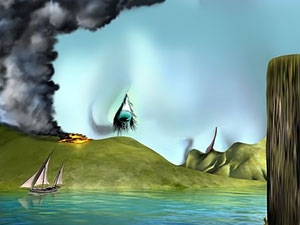 When I am out walking with my dogs, I often feel as if the upper part of my body is being stretched and I am eight feet tall. When this happens, I get a sense of peace that everything is just as it's meant to be, and that all will be well.
This past year or so, many customers have also shared with me how they too feel detached from their bodies as they go about their everyday lives. This does not just happen when they are having a conscious, or unconscious out-of-body experience.
Some teachings talk of how it is our very nature to constantly migrate away from our physical form, because we are actually omnipresent beings. My husband doesn't think I am on this planet very often anyway, and perhaps he is right. But I must be omnipresent in order to get my everyday chores done!
You don't meditate to experiment with altered states of consciousness or whatever else. You meditate only to perceive by yourself that everything is within us, every atom of the universe, and that we already possess everything we would wish to find outside of ourselves ~ Daniel Odier
At school, being "spaced out" was really a very natural state for me, and it often got me into trouble. In hindsight, I feel it was a very intense and highly focused state. Creative people can readily identify with this elusive state.
So, where are we when we're not here? I feel the body merely serves as an interface with the physical world, but at times it can seem almost as if it's being remotely controlled. I don't know exactly where I go, but I know I'm not always here.
Each night, as we slumber, we are transported to another realm of existence. We miss our sleep when we are deprived of any, but have you ever thought that we don't actually miss being awake when we are sleeping soundly and our physical body is resting. This is when our mental body calms down, and our spiritual body often soars. I read a description once of how the ethereal world is actually elastic and we are completely free to move way beyond our physical body while it relaxes and recharges.
It is my belief that in this unconscious state, we are able to resolve any conflict with others with whom we find it too difficult to do so in our conscious state. We can visit with deceased loved ones and much loved pets that have already gone home to spirit.
I am much more than I can conceive or judge me to be. Any negative or positive opinions I have of me are false fronts, headlines, limited and unnecessary programmes written on a thin paper blowing about and floating around in the vastness of inner spaces ~ John C. Lilly
Once upon a time, a very long time ago when I was about fourteen years old, I vividly remember waking up one morning in an absolute state of bliss. I have known contentment since, but to be honest, I can only think that this is what some sages might describe as being in a 'state of bliss". I felt totally connected to all that is, and to the very source of my being.
It was my hyperactive sense of responsibility that ultimately snapped me out of that wonderful feeling, and I'd often hoped it would happen again. But it never did. Although, I did think I might reach it when I began drinking heavily. Sadly, there was no escape in the bottle, nor was there any comparison to that peace I experienced, just once, a long time ago.

About The Author: Shani

Shani is a qualified practitioner in Reiki, aromatherapy, reflexology, body spin, and animal telepathy who received psychic development training at the Arthur Findlay College of Psychic Research in England. A published writer, her articles and predictions have appeared in several respected magazines and on psychic websites, and she has read for many celebrities and even heads of state in Africa. Though she was born in London, Shani has traveled the globe and has studied the art of African Mysticism, bringing her unique flavor to those seeking her incredible talents. Get a reading with Shani at PsychicAccess.com.


3 Responses to Being "Spaced Out" And Omnipresent