Spring Awaits Within The Sacred Circle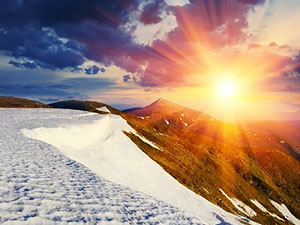 I was concentrating on work last night, while outside my window, without me realizing, a quiet blanket of white fell over the earth. The beauty of the quietness, the purity of the color gave a sense of all is well.
Of course, this snow puts the universe into a time of pause, a waiting time, where even the stars, the Moon, and the Earth seems suspended, still, ending movement, ending growth. Yet, underneath, the seeds and the bulbs are preparing, taking in nourishment, so that in the advent of the Spring season, sometimes even before the snow is gone, the beautiful new growths start to pop up here, there, bringing new life.
Many people wish for Spring all the time. Our lives are so busy. We wish to keep rushing, fast-paced, moving toward our goals and our dreams. We want to keep life moving as quickly as we can.
And a lot of the time all goes well. All is good. We are thankful, happy, bouncing off the walls with great energy, strength, power, spiritualism. But then we hit a wall. We hit an obstacle. We run into problems, and suddenly our lives are going to Hades in a hand basket. Suddenly, the Higher Power of God is gone from our lives, according to our own perception. Our lives are cursed, we are deserted, left alone to stumble through the darkness.
And Spring arose on the garden fair, like the Spirit of Love felt everywhere; and each flower and herb on Earth's dark breast rose from the dreams of its wintry rest ~ Percy Bysshe Shelley
My friend, if we just look up, if we just lift our heads high, we can see through the darkness to the bright Light at the end of any tunnel. At first you think that you alone are in charge, there is "free will", you can handle this… until life turns you upside down. What happened to free will, what did you do wrong?
It is then that we return to the sacred circle, to the altar, to realize that we are all spiritual beings before we are physical beings. Only when we return to the altar do we find renewed balance of mind, body, spirit. We become once again a finely tuned spiritual machine – full of love, full of hope, but on the trail we have been given to walk. We are again set on our life path.
We are all given the path and all the means to finish the race, reach the goal. When we think outside the "logical" box, and instead return to our true self, our inner spirit being, we are back on track. Obstacles come, problems go, much like the ocean tide with its ebb, its flow, but as we travel our path we find we grow in spirit. More importantly, we learn to love ourselves.
The snow came slowly and steady last night, but this morning the sun is shining. This day is a new day. Yesterday's reality is not today's, and today's is not tomorrow's. Great Spirit of God please take the reigns, take charge, so that victory, the dream will come.

About The Author: Mariella

Mariella is a New York resident, born in Italy, who began accurately reading at the age of eleven with just an ordinary deck of playing cards. She's since designed her own deck of Tarot cards as well as a unique time board that provides clients with startlingly accurate time frames for her predictions. For a reading with this warm, funny, and highly detailed Clairvoyant and Empath, you can find Mariella at PsychicAccess.com.