Being The Goddess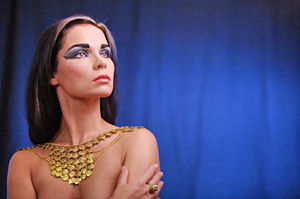 Being the Goddess was not an easy task, and the young girl knew this from the very first time she opened her hazel eyes to the world.
Inside herself she felt it, from the inside out, that she was meant to do different things, that she was meant to bring something to others from her own experiences.
"What does it mean?" she would whisper to herself late at night.
She was amazed at the fact of it sometimes, and at other times afraid. "Let it go", They said to her, "now is the time to be what you were called to be, without thinking about it so much".
All little girls are the Goddess, and the young girl discovered this as she grew older. She pondered these thoughts many times. How could she bring a message to bear that she herself knew nothing about yet?
But as she grew older, and lived some of what life had to offer, she knew there was plenty of tale to tell, about what went on in the heart of the Goddess.
Through the Goddess, we can discover our strength, enlighten our minds, own our bodies, and celebrate our emotions – Starhawk
She tried even still to think about it, and They laughed at her, and would continue to laugh until she no longer had any thoughts left. All that remained was the message to bring forth, in its truest form. The message was about many things, but most of all about love. The meaning of love. What love really was and how you could implement love into the core of the human fabric of our lives, the fabric that we weave every day.
"The Fates will weave, whether or not we ourselves provide the thread", They said to the little girl, who had seen so much in her young life, and had seen even more than she knew at that time.
The past was painful to see, but see she must, in order to free that view from her sight. Once she freed that sight, then she could see again. She had always known this time would, or could, come to be.
She had to stop looking to see if everything she did was right, because she knew she did wrong and that is just how it was at times. Many people do the same thing but the Goddess was her own harshest critic, and life had not always been kind!
The simplest and most basic meaning of the symbol of the Goddess is the acknowledgment of the legitimacy of female power as a beneficent and independent power – Carol P. Christ
She carried many burdens of shame. Not only did she carry the shame of her perceived self, but also the shame of others, who could not see through their eyes what they were doing. She was, and is, the mirror through which all souls could see themselves, even herself. This was blinding to the Goddess at times, and it tended to be difficult for her to close her eyes.
Day or night, it did not really matter. The only truth the Goddess lived for was her brief moments of peace. They came in different forms, sometimes colors, sometimes lights, and sometimes they were combined. At her heart of hearts she felt that prayer was the only true resolution. And since the act of prayer sometimes tends to be just that, an act, she knew she had to encounter the True Prayer.
So the Good Goddess had to be free, and be who she was, in order to exist. That would mean coming to terms with many things and she knew she could. She knew she was ready. She reached forward into her future and became a bright shining Goddess for those who needed her.

About The Author: Asherah

Asherah is a natural born psychic empath born and raised in Kingston Jamaica. An ordained Reverend and High Priestess, Asherah can easily tap into your real truth and help you to see clearly, releasing attachment to outcome by simply focusing on where you are now. Using tarot, numerology astrology and more..you can learn how to communicate your needs today! You can get a psychic reading from Asherah at PsychicAccess.com.