Vision Board Magic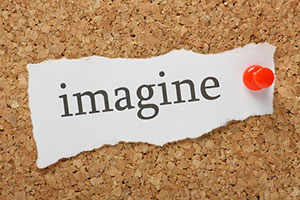 I am more and more pleasantly surprised at the number of clients who are making their own vision boards with great success these days. Yet, I still suggest creating a vision board to many customers who feel it is their lot in life to be poor, unhappy, lonely, or cheated on by a partner.
Often people don't even realize the extent to which they affirm the negative. I find myself cringing, because in essence they are confirming that the things they really don't want is part of their destiny. So, for starters, I usually ask them to observe their dialogue and to focus on replacing any negatives and 'ifs' and 'buts' with a positive. Often many years of stating negative words need to be re-formatted in order to manifest the life your truly desire.
Having a mental snapshot of where you are, where you are going, and what you are moving toward is incredibly powerful ~ Sara Blakely
There is a finger-sized area at the base of the human brain which filters incoming data, and as it receives information it will tag it as important, or not so important. This area is known as our reticular activating system (RAS). It is the RAS which enables us to filter out traffic noises when we sleep, and yet, still this function encourages us to wake up when a child or pet is distraught or crying, however softly. Imagine yourself surrounded by radio waves and you need to finely tune in to get your favorite "radio station."
Create and place a vision board with all of your desires in a prominent place to look at frequently. You might even consider a popular digital technique used these days of placing one on your computer screen or on your cell phone. Whichever method you choose, the vision board activates the Law of Attraction to kick start your desires to becoming reality. The Law of Attraction emphasizes the fact that those things to which our attention flows, will grow, and that includes any negative visualization too. Be careful what you wish for!
A vision board can help us move closer to our intended outcome by tuning into the external stimuli of positive imagery or sounds. If it is true, as certain reports have stated, that the human brain does handle as much as 100 trillion snippets of information at any given time, then it's important that our RAS filters in the bits which serve us best. Begin to give attention to the positives, as opposed to any old negative programming.
Your vision board will likely look like a collage of material objects you wish to have, a body shape or certain look you wish to achieve, or something you wish to do or be, or even a spiritual level you wish to aspire to.
Vision boards are the ultimate in manifestation. They serve as a tool to keep you inspired, keep you on track, and keep you motivated ~ Jessica Ainscough
A vision board can consist of a notice board or poster with cut out pictures and affirmations, or digital images if you are talented technologically. Make it as visually as attractive as you can, with pictures and wording which increases your emotional response to them. It's important to fuel your intention with passion. Bath your subconscious mind with your board's energy, in order to get its manifestation in progress.
Place your board in a place where you will see it constantly. You can cut colored images from magazines or print out inspiring images from the Internet. Paste them onto your board with positive affirmations next to them. For example: "I am living in my country home with stables, and I work from home overlooking the horses in the field below".
You may find your wish list varies a little with time or that you've omitted an important aspect of your future creation. It's important to keep it updated, as every detail adds punch to the outcome. Most of all, the imagery and wording on your vision board must continuously give you a feeling of emotional charge each time you look at it.
I recently manifested something that I had been told would never happen, and that wasn't really even possible. You see, I live with a cynic, so rather than display what I desired on a vision board, I made notes and created a board in my mind, in order not to have my positive focus diluted. My best friend later asked why I had never told her what I was in the process of doing. Well, I didn't tell her just in case she told me that I was putting myself under too much pressure to achieve and subsequently lessen my enthusiasm.
My method was, firstly, to write down my "wish list," trusting it was all already happening. I kept my list private; it was for my eyes only. So you could say my vision board was in my mind's eye. Never underestimate the power of your mind.

About The Author: Shani

Shani is a qualified practitioner in Reiki, aromatherapy, reflexology, body spin, and animal telepathy who received psychic development training at the Arthur Findlay College of Psychic Research in England. A published writer, her articles and predictions have appeared in several respected magazines and on psychic websites, and she has read for many celebrities and even heads of state in Africa. Though she was born in London, Shani has traveled the globe and has studied the art of African Mysticism, bringing her unique flavor to those seeking her incredible talents. Get a reading with Shani at PsychicAccess.com.


3 Responses to Vision Board Magic