A Farewell Message From My Father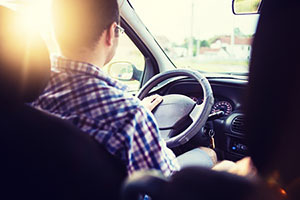 My father passed away, two weeks before Christmas, five years ago. My older brother Mike was sitting next to my dad in his room at the hospice when it happened. I was three counties away at the time, but on my way there.
Mike later told us that my father suddenly sat up in his bed. His eyes were wide open, as he looked up and pointed to the ceiling. He said that the heavens were calling him and that an angel was on his way to take him away. My father then took his last breath.
Music is the divine way to tell beautiful, poetic things to the heart ~ Pablo Casals
I was not yet aware that my father was gone. I was ready to hit the main intersection to go onto the freeway when the smell of my father's cigar smoke filled the car. It was so strong that my wife even smelled it. I thought that it was his sign to let me know that I need to get there very quickly.
Traveling on the Interstate at times the radio would lose it signal. At one point it seemed to be drifting between two radio stations and there were two songs playing at the same time! The one tune was Petula Clark's Downtown and the other was Aerosmith's Angel.
The lyrics from each of the songs was intriguing. From Downtown we heard; "The lights are much brighter there," and then Angel followed with; "Enough's enough I've suffered and I've seen the light…"
Through music we may wander where we will in time, and find friends in every century ~ Helen Thompson
I then knew that my father had passed away. I turned and looked at my wife, and from the expression on face she knew. The song Downtown was one of my father favorites, and Aerosmith is one of my favorite bands. To be honest, I don't think my father even knew that while he was alive, but it was his way to let me know everything is just fine in the afterlife.
Dad's passing came as no surprise. A month before his death my dad would see his parents in the room with him. He even got a kick out of the fact that his mother would rearrange the pictures on his night stand. And when his time came he moved on to be with his family under the guidance of an angel.

About The Author: Raymond

Growing up on the streets of Columbus Ohio, Raymond learned at a very young age that he was gifted in many ways, including the ability to read someone's eyes and using a regular deck of playing cards to read the future! His mother was from a Native American family, namely the Black Foot tribe, and his father was German. Raymond discovered that both sides of his family had a psychic legacy. Over the years he has gained additional knowledge from books and by talking to trusted family members. Raymond has been doing psychic reading for others for over 3 decades, and over the years he gained many loyal clients from all walks of life. Visit Raymond for a reading at PsychicAccess.com


This site uses Akismet to reduce spam. Learn how your comment data is processed.