Manifestations, Mothers And Cars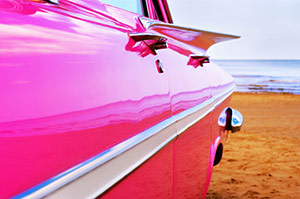 So, by now, if you are a regular reader of my blogs, you've become acquainted with my bipolar mom who is great 75% of the time. You would also know that I am a psychic reader of great faith, and a couple months ago I wrote blogs about both my mom, as well as my plan to manifest a new car for myself. I am pleased to share with you, dear reader, that I have achieved success!
But how, you say. What happened, you ask. I don't know how it happened, but it did.
While I love my mom tremendously, when she takes a ride on the bipolar train, I step back for a week or two and let her work through it. So, it just was the case a month or so after I wrote that blog, she went on a tear again and I backed way up. I had no choice, because you cannot reason with the unreasonable, and as anyone knows who is familiar with the highs and lows that mental disorders can bring, sometimes it is best to live to fight another day. Always pick your battles carefully.
Be very careful what you set your heart upon, for you will surely have it ~ Ralph Waldo Emerson
During that time, I wrote another article about dreams and riding in cars. In that blog post I shared with you about wanting a new car; and putting up a picture of a car behind me; and going to look at cars; and having a dream about my neighbor's ugly white truck, which I knew wasn't to be my future car. I knew that I would find my own. My mother knew nothing about that. I hadn't seen her during that time.
I stand before you now, the proud new owner of a 2006 Cadillac Deville, bought for me by my mother, paid for in full by her, with 60,000 miles on it. Fully in my name, with 6 months insurance paid up front.
I know! Can you imagine? Three things came into play, well, besides the poker machines that gave my mom her biggest wins to date: my vision, my understanding of how to handle my momma, and timing.
The mental and physical space we create by letting go of things that belong in our past gives us…the option to fill the space with something new ~ Susan Fay West
When I backed away, she came forward. I allowed her to be in her space, I inhabited my own space, and I focused on my Faith and knowing that even if I didn't know 'how' or 'why I would achieve my goal. All I had to know was that I would. That it would happen. And it did.
And my neighbor with the ugly white truck? Well, he still hasn't offered a smile or a "congratulations." I didn't really expect it, since he thought nothing of driving past me walking down the road with bags of groceries in hand, and blowing his horn to say hello. Who does that anyway?

About The Author: Asherah

Asherah is a natural born psychic empath born and raised in Kingston Jamaica. An ordained Reverend and High Priestess, Asherah can easily tap into your real truth and help you to see clearly, releasing attachment to outcome by simply focusing on where you are now. Using tarot, numerology astrology and more..you can learn how to communicate your needs today! You can get a psychic reading from Asherah at PsychicAccess.com.