The Animal Psychic Connection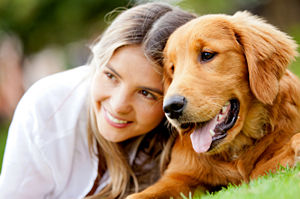 As any pet owner knows, we work to make sure our 'babies' are safely housed with a warm blanket and plenty of food. At least, this is how it is for me. My animals are my children and provide me with the most unconditional love and support I could ever ask for.
Pets are little people with fur. My Tinkerbell will be the first to tell you, in her 'Auntie Mame' sort of way, that she is only here because she loves her mommy so much. My boy Cricket would say that he likes to lie next to me when I am not feeling so good and he tries to take the pain away. And my Polly Pocket gets sick when I get sick. I have to muster up and climb myself out of bed so that my tiny Chihuahua won't slip into a major depression!
Such is the human race, often it seems a pity that Noah… didn't miss the boat ~ Mark Twain
Our animals that we love so much are such a huge part of our lives that we share with them a bond unlike any other. They comfort us when we are sad, and take a sweet paw to wipe away tears. Who hasn't among us girls cried into a kitty's fur or let a doggy give us kisses when we have been disappointed or heartbroken? What young man hasn't taken his golden retriever for a walk while pondering the fact that he just doesn't understand his girl! And we'll sit there, too, and pour our hearts out to these wonderful creatures that look at us with loving eyes, so filled with concern.
And yet it isn't just the animals we live with that are psychically connected to us. We all walk this earth together, after all. Some fly, some crawl, some swim; no matter the method we are all here together. Hunters know this and they take into account animal activity when they are out in the wild. Animals are the first to sense when a natural disaster is about to occur. I don't know about anyone else but I watch what the birds are doing. If my cats are acting strange, I check the weather report and sure enough there will be an upcoming change being broadcasted. Animals have a sixth sense; they just know this stuff. They are closer to the pulse of nature than we are. We all need to start listening much more to what the animals have to teach us.
If having a soul means being able to feel love and loyalty and gratitude, then animals are better off than a lot of humans ~ James Herriot
I recently had a profound dream. It was so realistic I woke up screaming. The earth was shaking and explosions were coming from deep within the ground. People were screaming and crying to no avail. As I looked in amazement the sky opened up and two beautiful spaceships came floating down with amazing lights all around. The doors opened up and I somehow knew we were saved.
I attempted to gather people towards the spaceship, but they all refused to go! I was beside myself, until a soft voice said, "Excuse me Miss, but we'll go". I looked down and back, and as far as my eye could see there were animals lined up. The cat beside me jumped around my neck, purred into my ear, "Let's go get safe", and with a last look at the people still refusing to get to safety, the cat and I made our way into the ship, followed by all the animals of the world.
As we took off, I watched the earth implode into nothingness beneath us. The people had refused to listen and hadn't been saved…and the animals had saved me, because I listened to them.
You never know what an animal has to say until you take a minute. Get down (or up) to their level and listen. You might be awesomely surprised!
About The Author: Asherah

Asherah is a natural born psychic empath born and raised in Kingston Jamaica. An ordained Reverend and High Priestess, Asherah can easily tap into your real truth and help you to see clearly, releasing attachment to outcome by simply focusing on where you are now. Using tarot, numerology astrology and more..you can learn how to communicate your needs today! You can get a psychic reading from Asherah at PsychicAccess.com.