We Can Co-Create A Peaceful World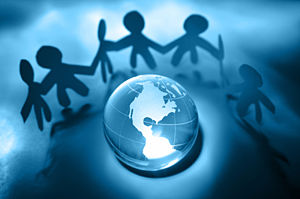 Each part of our body has many functions, many parts. Some we can see and some, of course, we cannot. Each has a very important function and serves a role that helps our body to work and operate well.
For our body to continue to run well, we have to take care of all the parts. We must ensure, for example, that we don't drink too much alcohol, or eat too much fatty foods, because if we do it could ruin our liver. But healthy living goes beyond our physical lifestyle. If we think negative thoughts, or are emotionally bitter or cynical, then we also promote disease in the human body.
It also goes beyond our own life and body. Our planet is also a living, breathing body and all the smaller parts of our wonderful world must also run smoothly, in order for nations and countries to survive and grow, and for all to live in peace and harmony.
We are multi dimensional beings of light embracing harmony, unity and peace.  We seek soul development and spiritual evolution that we may manifest and create miracles.  Find your purpose, express your freedom, nourish yourself with love and you will make a profound difference in the world ~ Micheal Teal
If we all do our job, and we are all on the same team with the same values, such as harmony, love and peace, we could have a gloriously peaceful, harmonious world. We are aware of things like corruption, greed and dysfunctional governments. These evil practices go on and make for ripples of constant negativity. Sometimes we see it in horrible ways, where lives are ruined and destroyed.
We all have different talents and gifts and I feel if we all listened to the messages from our higher consciousness, and acted on them, we could all co-create a huge change in the world. If you have the desire to write a blog or a book, or even just an email to your friends, about world peace, then do it! I will change at least one person's life, but most likely many more!
Work is love made visible. And if you cannot work with love but only with distaste, it is better that you should leave your work and sit at the gate of the temple and take alms of those who work with joy. For if you bake bread with indifference, you bake a bitter bread that feeds but half man's hunger ~ Kahlil Gibran
If we all did our part, and maybe weren't so lazy, and really listened and heeded our true calling, we may be able to work together – just like our body uses all of its parts to function. We are all one in spirit and we are all connected.  We must all contribute.
I know there are many corrupt people, with too much power, who make things happen that aren't good for the rest of us. But I also know that there are way more of us than there are of them. Let's stand together and create the change we want to see in our world. Tap into your higher self and do something, anything!
If each one of us did just one small thing to make a difference, we can co-exist in harmony with ourselves, each other and our planet.
About The Author: Moon Goddess

Moon Goddess is a third generation empathic healer and seer. She started to give healing readings to people more than 20 years ago. She has always been interested and studied all things metaphysical from a young age. Being hypersensitive she can feel and see things before they happen. Utilizing the Tarot, and with the help of her Guides, she is a source of support for many people all over the world. After he passed over, her grandfather kept his promise and came back to say goodbye and gave her the most amazing experience. Moon knows there truly is a Heaven, and it is wonderful! Sharing her experience has helped many people after they have lost someone, or anyone experiencing some form of grief. Get a reading with Moon Goddess now at PsychicAccess.com.