Monthly Archives:
January 2012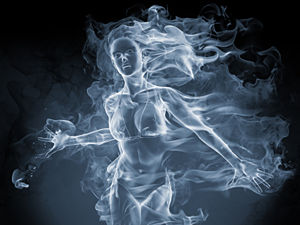 Ectoplasm is an outer layer of protoplasm; one could say it is an etherealized protoplasm. Protoplasm is the basis of all plant and animal life.
Physical mediumship requires either a superabundance of one of the chemicals contained in protoplasm, or the addition of an unknown chemical built up by spirit power. This substance in its many forms is used as the basis of all physical spirit manifestation.
It forms the body and clothing of a materialized spirit. It is also used in telekinesis and automatic writing. In fact, even the tiniest of spirit raps cannot be produced without the aid of a physical body from which is drawn the necessary ectoplasm.
Spirits, without the use of a material instrument, are powerless to produce a sound or anything that comes into the range of our five physical senses, for they live in a higher range of vibration of which we are unconscious. To produce any form of sound they need ectoplasm. Ectoplasm is the key to how spiritual entities manifest once again in a body that can be seen and even, sometimes, touched. Continue reading →