When Spirit Comes To Say Goodbye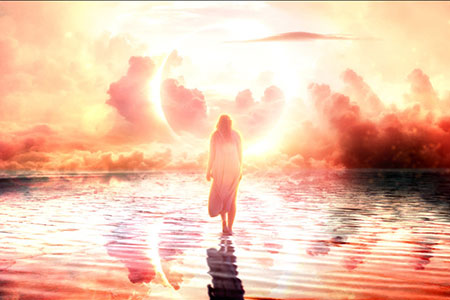 Many people assume that their loved ones will say goodbye to them before they leave this earth plane. I beg to differ. In my experience this is not always the case. I know this without a doubt from personal experience.
In 2010, for example, my favorite sister became very ill. She was taken to the emergency room with kidney and liver failure in early August. She was admitted on a Monday, and by the Wednesday around dinner time, I received a phone call from her husband telling me that she had passed away.
Seconds after receiving this awful news, as I turned to my left, I saw her sitting next to me. Her apparition was looking at me, as if to say, "Are you okay? How are you taking this?"
Indeed, she appeared to be more concerned for me than herself. After all, where she was going now, she wasn't going to have any more health problems or human suffering. Once her spirit saw that I had regained my composure, she left my side and continued her spiritual journey to Heaven.
My dearest sister had merely come to say goodbye, until we meet again. Rather than despair about her passing, I was suddenly relieved her soul was heading to God's Holy Kingdom. There is after all no finer a place in the entire Universe!
In the summer of 2012, my other sister informed me that she was having difficulty breathing and was seeking medical advice about it. Sadly, at the same time, my mother was also having medical issues. Soon after, my phone rang very early one morning. My heart raced as I ran to answer the call, fearing that my mom had taken ill.
Instead, a man's voice was saying, "Where is your mother? I need to speak to her urgently!"
Death is simply a shedding of the physical body, like the butterfly coming out of a cocoon ~ Elisabeth Kubler-Ross
I recognized the voice immediately as belonging to my brother-in-law. In an emotional state he had accidentally rung me instead of my mother. He then told me that my sister had died in the early hours of the morning.
Now, if anyone believed that the soul does not survive a person's passing, it would have been my brother-in-law until that moment in time. In fact, he was an out and out non-believer and an absolute sceptic when it comes to the afterlife and anything to do with metaphysics and the paranormal. However, he now had to acknowledge that although the coroner later established my sister's time of death to have been around 1:00am that Tuesday morning, he had seen her in person more than four hours later!
Due to her medical condition, she was not sleeping in the same room as her husband at the time of her death. At approximately 5:00am he said he awoke with her sitting at the end of his bed. She did not speak to him. This, we later joked, was unusual, as she always had something to say! Nevertheless, she looked at him with intense love in her eyes and then got up and walked away, back to her bedroom.
Her spirit had come to say goodbye to her husband before she went on her spiritual journey to join our other her sister who had gone before her.
During my many years of research into the paranormal, I have also come across the fascinating story of Captain Bob. The story goes that Captain Bob, a retired airline pilot, bumped into an old friend of his one day at Glasgow Airport.
Apparently, he had known the man for nine years, so there was no possibility of mistaken identity. Bob and his friend chatted for a few minutes, and the only thing Bob found unusual about his friend was that the guy did not shake hands with him.
Although such encounters are chilling, they can also be comforting, witnesses and paranormal investigators say. These encounters suggest the bond that exists between loved ones is not erased by death ~ John Blake
After a short while, Bob needed to leave, and as he picked up his bags and turned around, his friend was no longer there. Strange, he thought.
The following day Bob was talking to another friend, who informed him that the man he had been talking to the day before, had in fact passed away in Edinburgh some four days earlier!
These spirit visitations are known as 'post-mortem apparitions.' It is speculated that when a person passes away suddenly or unexpectedly, their soul finds it difficult to believe that they are no longer alive. Instead of crossing over, they then continue their day-to-day activities as usual.
In other cases, a person's spirit may feel that they still have unfinished business here, delaying their departure to say their goodbyes.
While there may be various reasons as to why a soul might remain for a while on the earth plane, after their passing, the very fact that they do stick around sometimes, surely proves that our spirit does survive the ending of life as we know it. It is evidence that our soul's journey continues beyond this life into the next.

About The Author: Lucinda

Lucinda is a highly trained Intuitive and Empath, living in a beautiful village in North Yorkshire, England. She possesses the rare gift of understanding a client's personal pain and has been through many challenges, herself, which has only made her stronger! It is both her calling and her happiness to help those in need. And whenever she needs a little help herself, her Guides are always there to assist in her development and provide clear interpretations for her clients. Prediction has always been a great tool she could count on to accurately foretell events, but Lucinda also draws on her expertise with Dream Interpretation, Numerology, Angel Cards, Law of Attraction and Life Coaching to provide full and detailed solutions to any problem. A member of AMORC and Beyond Freedom Evolution, she provides inspiration, education and personal support for spiritual development. If you'd like answers or want to attract your desires, you can find Lucinda at PsychicAccess.com.