The Light At The End Of The Tunnel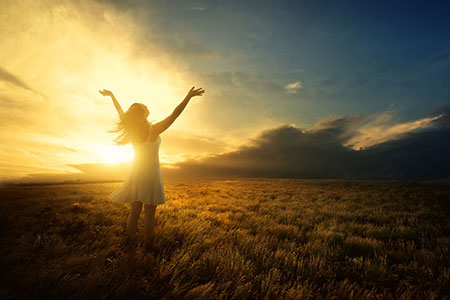 As the days get longer and the weather gets warmer in the Northern Hemisphere, there is a feeling of lightness that permeates everything. The saying "April showers bring May flowers," is especially true this year, with wet weather helping the grass to turn green and the perennials to bloom.
Around the world, hope currently springs eternal, as more vaccines are being administered and COVID-19 statistics are starting to improve. We are all ready to get back to a semblance of normalcy, after more than a year of our lives being turned upside down and families separated.
Some of us are still in lockdown or subject to various restrictions. Some days are better than others. We are not entirely out of the woods yet, but at least it seems we are getting there, slowly but surely.
This past year of social restriction and isolation has however been an opportunity to reflect and make some needed changes to our lives. Although most people did not anticipate such an upheaval for so long, the additional time in isolation has allowed many of us to re-evaluate our life choices and really focus on what we want to accomplish in future.
Some of us have concentrated on charity. Some have turned to activism. Some have focused on self-care and self-healing. Regardless of our choice of focus, many of us have become more determined to make a difference in the world. This truly is one of the many blessings that has come from all the chaos.
It is important, however, that when we set these new intentions for our future, not to overreach with impossible goals or temporary plans. If feasible, choose a course of action that will be sustainable long after the immediate pressure of the pandemic has dissipated.
Hope smiles from the threshold of the year to come, whispering, 'It will be happier' ~ Alfred Tennyson
Behind the scenes, the work will have to continue, and it will take a very long time to right the ship after such an arduous storm. Taking baby steps in any direction, and building from there, will ensure a rock solid, steady climb that can be maintained over time.
Whether your contribution is in the form of money or time, or both, there are many organizations and projects that will count on our support for the foreseeable future, because their indispensable work will ongoing, and their need will continue to be great.
In the meantime, we must be grateful that we can enjoy the ever-brightening light that is now appearing at the end of the tunnel. We have the chance now to push forward to the finish line and help others along the way. Kindness, charity, compassion, and love will be necessary to win this race overall.
We are far along the tunnel now and the end is certainly within reach. Keep the faith, stay hopeful and be kind.

About The Author: Monica

"What you think about, you bring about; what you believe, you become." This is Monica's philosophy, derived from her twenty-five years of experience as a Clairvoyant, Light Worker and Medium, living in Ontario, Canada. Monica has been a guest speaker at various Spiritualist churches, conveying Spirit greetings and messages from loved ones during Sunday services, All Mediums Nights, Healing Services, Meditation Services and special fundraising events. She's been an advisor to several international business leaders and connects with all of her clients on a level of love light and empathy. She delivers messages containing ideal outcomes and positive solutions with the help of her guides. If you'd like Monica to help shape your destiny, you can find her at PsychicAccess.com.