Astrology Forecast March 29 – April 4, 2021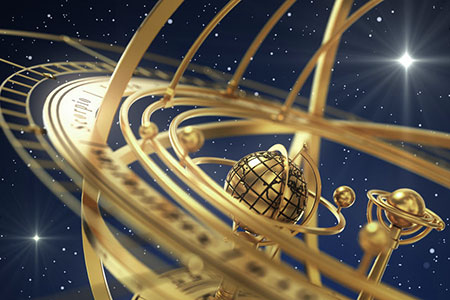 The astrological weather is pretty calm this week, with only one significant change in the zodiac energy: today's Waning Gibbous Moon in Libra. The Libra Moon brings love and relationships to the forefront today, so if you're facing any conflicts or challenges in the marriage, dating or romance arena, now is the time to get those straightened out.
Fortunately, the Libra Moon trine Mars in Gemini boosts our levels of courage and determination today. It can support you in taking action, as well as being open, resourceful and pragmatic in dealing with relationship challenges. So, today may be a good time to have that long overdue conversation with your significant other.
If you are single, today may also be a window of opportunity to get a date with that new acquaintance. The Libra Moon trine Jupiter in Aquarius later today favors increased popularity and higher levels of social success. So, what are you waiting for?
A Scorpio Moon tomorrow and Wednesday will be setting a rather intense tone. You could find yourself caught up in the details of a highly focused project, but take care not to miss the forest for the trees! Stay alert to what's going on around you.
The workweek fortunately ends under a Sagittarius Moon, and you may finally feel like you're all caught up! Maybe for the first time in two months. Enjoy the lull, as things will certainly pick up again next week.
Mercury moves into Aries on Saturday, and you could find yourself going down the 'Internet rabbit hole' with how-to-videos on YouTube or researching your family tree. There will be an eagerness to learn new things or become better informed with this Mercury placement, so it will be a goof time to surf the intellectual highway.
Saturday and Sunday unfold with a Capricorn Moon overhead, making this a most productive and satisfying weekend.

About The Author: Susyn

Susyn lives in New Mexico, and offers Psychic Guidance, Astrological Insights and Channeled Messages that will change your life! Her credentials are top-notch and include a doctorate in metaphysical studies and certifications from The American Association of Professional Psychics and The American Tarot Guild. She's also a published author, with two metaphysical books under her belt, and has authored numerous articles and horoscope columns. In addition to her readings, Susyn is also a mentoring practitioner who teaches others how to master their own gifts, raise their vibrations, and empower themselves. A sought after guest on numerous radio programs, she has also hosted her own radio show. If you're looking for one of the truly bright shining stars who can also read them with an accuracy that will astound, look no further. You can find Susyn at PsychicAccess.com.