The Resilient Spirit Knows No Bounds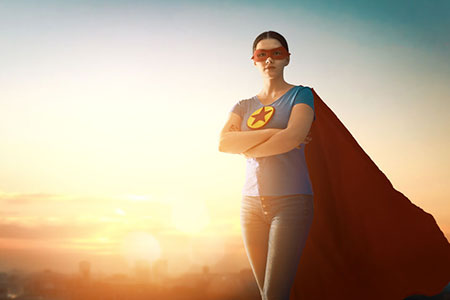 Our world has lately been feeling like a carnival ride gone awry. Despite all the madness, one thing bears remembering: the innate resilience of our spirit.
We are still here, and we are still standing. And we are willing, able, and capable to forge ahead. For many the move forward will be in a completely different direction than before, while for some the path has merely been adjusted to better suit us.
To be resilient is to be able to withstand or recover quickly from difficult conditions. Resilience is the ability to bounce back into shape, after being bent, stretched or compressed. This is the essence of what our spirit is designed to do.
Our spirit or soul is the eternal part of us that connects us to the Divine, Source, God, the Universe. It is the Spirit we call upon to show us the way, carry us through, or facilitate the manifesting our dreams, goals and aspirations. It is that unbreakable, unshakeable part of us that fuels us to continue to move forward regardless of circumstance.
Spirit is also the place where our hearts and minds find peace,  love, compassion and understanding. Every time our spirit is stretched beyond normal bounds, and we bounce back, we are even stronger, more confident, more loving, and more certain of ourselves.
Through surviving much adversity, we also come to understand that because of this resilience, what we are made of is not meant to be broken. If anything this resilience allows to stretch even further, reach even higher, and accomplish even more.
Although the world is full of suffering, it is also full of the overcoming of it ~ Helen Keller
All of us have gone through various challenges and difficult circumstances at some point in our lives, and yet we are still here. We are still somehow standing. The fact that you are reading this, or open to exploring your spirituality through psychic readings, angel messages, meditation, religion, and other forms of spiritual practice, is a testimony to your inner awareness of your inner resilience.
The resilient soul continues to reach deeper, and higher, with more focus and determination, to achieve greater levels of happiness, peace, success, hope, love and fulfillment. Your resilient spirit has come to know that you can, and will, thrive and that there is always a solution for every problem that may challenge you.
Some days this awareness is stronger than others. On those days it is worthwhile to take the time to remember where you were before, compared to where you are now. See how far you have come! See how much you have already survived and conquered. Acknowledge all that you have already accomplished. Reflecting on this when you have a difficult day, will fuel you to have more confidence in moving forward.
Out of suffering have emerged the strongest souls; the most massive characters are seared with scars ~ Kahlil Gibran
Spirit is about knowledge, peace, love, compassion, healing, wisdom, discernment, all in a form that is delivered to us when and where we need it. It is available for us to tap into at any given moment. It is a part of our innate being, that we can trust above and beyond what circumstances may be showing us in the moment.
The saying "what does not kill us makes us stronger" should actually be replaced with "that which challenges us opens us to overcome and expand." The resilience of Spirit knows no bounds.

About The Author: Angelic Heights

Empathic, intuitive, psychic from a very young age, Angelic Heights (Gail) learned well the importance of using her gifts for the highest good. Marriage and a career in the paralegal field occupied her until her early 30's. Accurate, compassionate and direct, her focus now is entirely on enlightening, uplifting, inspiring and guiding those who seek her counsel. Gail believes that it is as critical to understand the energy of the people we choose to be involved with. Regardless of the nature of the issue, whether it be romance, career, business, or family, the essential needs of every client always come through clearly in her readings. She is able to hone in very quickly on major concerns and deliver accurate messages and solutions to problems. Get a reading right now with her at PsychicAccess.com