May 2020 Weekly Astro Forecasts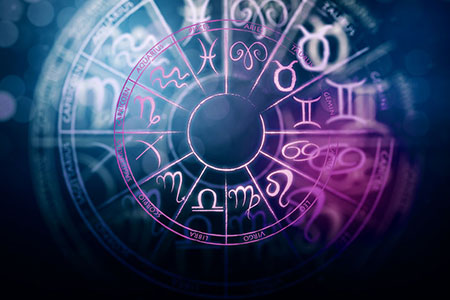 May 4 – 10
The Scorpio Full Moon takes center stage this week and could shake things up for a few days, as it waxes full on Thursday. Scorpio is the most karmic sign of the zodiac, making this Full Moon famous for the spiritual and the unusual. We're likely to reconnect with people we haven't seen in ages, or quite possibly, even in this lifetime! Because a Full Moon promotes release, this week can herald a time of reconciliation, forgiveness, and letting go of the past. This Moon opposes the Taurus Sun, which can also affect finances, health and comfort.
The Moon will travel through Libra on Monday and Tuesday, allowing us time to get things in order and restore balance on all levels: emotional, physical and spiritual. Once the Moon waxes full, we'll begin to feel much lighter and joyful. Friday and Saturday's Sagittarius Moon will add to the sense of hope and optimism in the air, and insists we focus on sharing and unconditional love with all those around us.
Saturn will turn retrograde on Sunday and continue to travel backward until the end of September. A Saturn retrograde allows us to take down walls, move more freely and in tandem with the Scorpio full Moon, release anything that stands in the way our dreams.
May 11 – 17
This will be a very busy week, as the planets will be playing musical chairs, including two planets changing signs and two going retrograde! The fun starts on Monday, when Mercury moves into Gemini, the sign it is most at home in. This will accelerate thinking, expand our social lives and have us surfing the 'information highway' for the next few weeks.
On Tuesday Mars will move into Pisces, while Venus will turn retrograde. Mars in Pisces can make for difficult movement, as the planet of action wades through this watery sign, which could prove challenging, as it stays in Pisces until the end of June. Keeping a focus on spiritual and inner movement is the best way to handle this aspect.
Venus goes retrograde approximately every 18 months and will backtrack in the sign of Gemini until the 25th of June. This creates a cycle where we can connect with people from our past, resolve old relationship issues and gather our thoughts and lives into a collective representation, making it a great time to create photo albums, clear our music and document caches on the computer, and maybe even pull out those old vinyl records to replay songs from the past.
But the show isn't over yet! Jupiter turns retrograde on Thursday, where it will remain until mid-September. Jupiter retrograde creates the catalyst for revising and reviewing our values, our finances, and any habits that keep us from being our truest, most soulful self.
May 18 – 24
The Sun moves into Gemini this week, followed by a Gemini New Moon, which heralds a month-long cycle of thought-provoking fun and accelerated social activity. Our minds will move much quicker during this phase, and our inventive, fun and witty sides shine!
The Moon travels through Aries on Monday and Tuesday, making for two action-packed days. Now is the time to clear up from last week's astrological shifts and make great headway on work-related projects. Wednesday and Thursday shine for productivity under the Taurus Moon, and information we've been hunting for magically shows up when the Sun enters Gemini on Wednesday.
Friday's Gemini Moon invites us to 'think different' and expand our knowledge and research skills, as we get access to the information highway and move full speed ahead connecting the dots and getting answers to the questions we've been searching for! The Moon continues through Gemini over the weekend, making this an ideal time to delve into our social media, update electronics and share information.
May 25 – 31
Home, hearth, and family take center stage this week, starting with a cozy Cancer Moon to set the stage for an easy flowing Monday and Tuesday. Cancer is an emotional sign, so it's important to pay close attention to our feelings and the important messages they send. Mercury will also move into this loving sign on Thursday and spend the next few weeks turning our focus to the important relationships that sustain our lives. Mercury in Cancer will bring our intuition to the forefront, making this a great time to trust our hearts and inner voice over the so-called 'facts.'
The Moon cruises through Leo on Wednesday and Thursday, evoking our empathetic and generous sides. Friday and Saturday are the best days to get things done, as the Virgo Moon promotes organization and order. The week will end on a balancing note as the Moon dances through Libra on Sunday. Rest, relax and take a deep breath; you've earned it!

About The Author: Susyn

Susyn lives in New Mexico, and offers Psychic Guidance, Astrological Insights and Channeled Messages that will change your life! Her credentials are top-notch and include a doctorate in metaphysical studies and certifications from The American Association of Professional Psychics and The American Tarot Guild. She's also a published author, with two metaphysical books under her belt, and has authored numerous articles and horoscope columns. In addition to her readings, Susyn is also a mentoring practitioner who teaches others how to master their own gifts, raise their vibrations, and empower themselves. A sought after guest on numerous radio programs, she has also hosted her own radio show. If you're looking for one of the truly bright shining stars who can also read them with an accuracy that will astound, look no further. You can find Susyn at PsychicAccess.com.