The Spiritual Counselor's Vision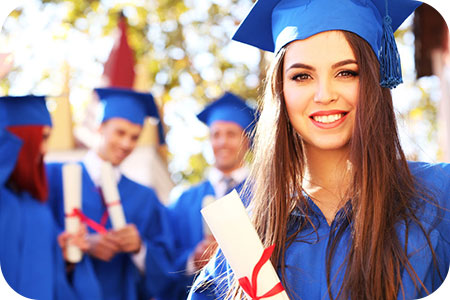 Many years ago, I encountered a vision of a smiling toddler. The child's joy was overwhelming. As I hung out in a rim state of consciousness to see more, the image faded as quickly as it came. Several years following this glimpse, I found myself staring into a photograph of my best friend's two year old daughter. I realized at that very moment that the vision I previously experienced was a foreshadowing of my closest friend's daughter, who is now an adult.
Throughout her childhood, I continued to receive spirit messages about her well-being. As each one emerged, I shared details with her parents. One message in particular came to me during meditation. I envisioned her standing on the grounds of what appeared to be a prominent university. While I could not make out the name of the school, I could see old stone buildings that were situated atop a beautifully landscaped hill.
She was smiling in the vision, as she proudly stood with her backpack in place between her shoulders. I interpreted this vision to mean that she would someday attend a great university and that any anxiety her parents held with regard to her future would soon dissipate in the blessing of a perfect match between student and university.
The future belongs to those who believe in the beauty of their dreams ~ Eleanor Roosevelt
Her parents were hardworking , but often struggled financially to make ends meet. As she matured, their concerns about affording college loomed larger than their daughter's desire to receive an education and break the cycle of poverty that her parents appeared to be stuck in. I often found myself reminding my dear friend of the vision I had, in which her daughter's academic future was set and secure. I used these reminders to gently nudge my friend to shift her thinking from a place of hopelessness to an inner knowing of hope and expectation.
After my friend's daughter graduated from high school, she attended a highly respected New England university, located in an urban environment atop a hill. As I stood outside the iron gates of the main campus during my first visit, I was in complete awe as the location was identical to that which was shown in my early vision. At that very moment, I realized that Spirit had given me a special vision that from time to time would serve as a guide, a reminder for my dear friend that her daughter's future would be taken care of.
Because of her outstanding academic accomplishments, she received a full scholarship to attend the university atop the hill. Today, she holds a key position with an international technology company, and her parents have completed college and moved their lives forward in ways that were once unimaginable to them.
There will be obstacles. There will be doubters. There will be mistakes. But with hard work, there are no limits ~ Michael Phelps
Recently, I received a card in the mail from my dear friend. She thanked me for reminding her during deeply challenging moments that there was a greater purpose to her life. She thanked me for the visions shared with her over the years about their daughter, and encouraged me to keep sharing with others.
Today, as you embark on the unknown, especially during periods of stress and discourse, let us affirm that the change you seek is near. Let us envision the manifestation of that which is best for your highest good. Let us call on this with confidence in the here and now. Let us be courageous enough to do the work required to achieve the dream. Let us boldly know that this is possible with the right guidance.
As I sit in stillness, I honor the gifts bestowed upon me as a spiritual counselor, and I look forward to sharing these gifts with you.

About The Author: Shawna

Shawna lives in the American Southwest and is a third generation Spiritualist and Clairvoyant. She recognized her own gifts at a young age, fully embracing her calling as a Clairvoyant, Medium, Spiritual Astrologer, Tarot Reader, Aura Reader, Water Reader, and Healer, training under the tutelage of some truly gifted mentors. Shawna utilizes her natural psychic gifts to help individuals navigate through personal challenges and discover the higher manifestations of their life paths. She's provided positive, spiritually responsible, and ethical readings in-person, over the phone, and online, and has read for clients in Los Angeles--at psychic fairs--and at the Crystal Gaze Spiritual Center, in Lakeland, FL. She is also a trained practitioner in Clinical Herbalism (University of New Mexico), Ayurveda Medicine (San Diego College of Ayurveda), and Reiki. Shawna has channeled messages for political leaders, celebrities, and has accurately predicted the outcome of national campaigns, as well as a big career opportunity for a talented actor that resulted in a Tony Award! If you'd like an enlightening and empowering, full-spectrum of guidance, you can find Shawna at PsychicAccess.com.


This site uses Akismet to reduce spam. Learn how your comment data is processed.