The Little Things That Matter Most
Published
November 23, 2018
|
By
Shani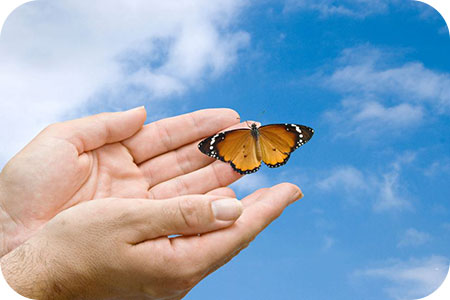 It really is the little things in our daily lives that sometimes matter most. And we are often more likely to remember those things. One of the little things that can touch our hearts most are gestures by kind people, which I have experienced so much of these past few weeks. They can be any random act of kindness – or even an observation when we suddenly become aware of how much such little things really matter! We may pass by beautiful scenery a hundred times and never pay attention, until one day it suddenly strikes a deep cord with us.
Just yesterday, a client said something to me which moved me deeply. "I just want you to know that when you enter a room, your heart enters first," she said. I pondered her words for quite a long time, and will now always remember how it affected me deeply. Also, I was struck by the way her words came as if from nowhere, and that during a psychic reading which should really have been all about her and her concerns. What for her might have been just a quick gesture of appreciation, mattered very much to me… and it always will be remembered.
Recently, this same lady told me about a beautiful butterfly which had appeared at her window during one of our readings. Knowing the profound transformation she had been going through, and the beautiful soul that she is, no wonder all of her helpers on the other side wanted her to be aware of their presence in her life at this challenging time.
Remember there's no such thing as a small act of kindness. Every act creates a ripple with no logical end ~ Scott Adams
She contacted me a couple of days later too, to say that she felt there may well have been a strong spirit message from this Monarch butterfly for me. I was most grateful for that too, because the timing for such a message from spirit for me was perfect.
It only goes to prove how we really do grow and learn so much from each other, no matter the nature of our relationship. I was even more surprised when, only a few days later, this special lady phoned to tell me about an experience her son, now in his early twenties had just excitedly phoned her about. Her son, Tyler, is the proud owner of a new rescue puppy. And I believe that little puppy rescued him too! Just prior to phoning his mom, he'd taken the little dog for a walk in a field, and "there were more Monarch butterflies surrounding me than were impossible to count," he said. I do feel spirit was very instrumental regarding this sensitive young man seeing these beautiful Monarch butterflies, often renowned as spirit messengers, because he has been through much emotional turmoil and transformation himself recently. Spirit sure must have teamed him and that puppy up too, because chances are, if he was sitting at home, he wouldn't have seen them in the field either!
A single act of kindness throws out roots in all directions, and the roots spring up and make new trees ~ Amelia Earhart
On the subject of butterflies, just a few months ago, early one evening towards the end of the summer, I was in the pool with my husband, and he gently lifted a large butterfly out of the water and onto the surrounding paving. He said, "It is not likely to live, but I would prefer it dies beneath the warmth of the sun than in this cold water." What a special gesture that was. And more so when that beautiful butterfly suddenly took flight a few minutes later! I watched in awe as that beautiful little creature took flight. One such little incident can be so exceptional… and for me it truly mattered.

About The Author: Shani

Shani is a qualified practitioner in Reiki, aromatherapy, reflexology, body spin, and animal telepathy who received psychic development training at the Arthur Findlay College of Psychic Research in England. A published writer, her articles and predictions have appeared in several respected magazines and on psychic websites, and she has read for many celebrities and even heads of state in Africa. Though she was born in London, Shani has traveled the globe and has studied the art of African Mysticism, bringing her unique flavor to those seeking her incredible talents. Get a reading with Shani at PsychicAccess.com.


Posted in

Life Design, Lightworkers, Love & Relationships, Paranormal Phenomena, Spirituality
|
Tagged

animals, appreciation, awareness, beauty, compassion, consciousness, gratitude, joy, kindness, life lessons, memories, Paranormal Phenomena, pets, psychic reading, respect, signs, spiritual awareness, spiritual messages, Spirituality, synchronicity, transformation, unconditional love, words
One Response to The Little Things That Matter Most
This site uses Akismet to reduce spam. Learn how your comment data is processed.