How To Send Spiritual Protection To A Loved One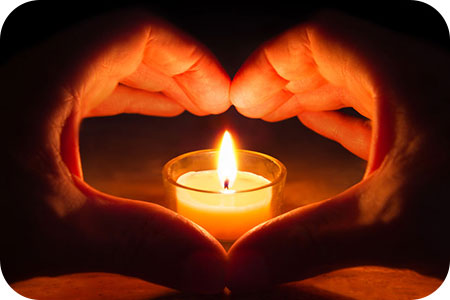 When you are separated from loved ones due to distance or circumstance, you can use a simple ritual to send them light, protection and love. Intention and focus gives this ritual it's wings, as you request protection from Spirit on behalf of another. It ensures that you enlist help for them in the most powerful way possible!
This ritual is especially useful for distant loved ones who may be facing health problems, who are traveling, or those in the midst of dangerous or emotionally traumatic situations.
Preparation
Wear yellow when performing this ritual. Play music that reminds you of the person you are requesting protection for. This ritual can be performed whenever the need arises, and continued on a nightly basis if need be.
What You Need
• 3 yellow candles
• 1 quartz crystal
• 2 amber stones
• Amber incense
• Garlic powder
• Anise seeds
• Sea Salt
• 1 greeting card, blank inside, with envelope
• Keepsake or photo of the person you are sending protection to
 Love is the empowering force for all energetic healing. It is this truth and this reality that enables you to do energetic healing at a distance. Since that connection remains in place, healing can happen no matter what the physical separation. You can have a positive impact on someone through the power of thought and intention ~ Genevieve Gerard
The Ritual
Place the three candles in a pyramid shape, one in front of you and two behind the first candle. Place the photo or keepsake of this person to the right of the candles, and the greeting card and envelope to the left. With the quartz crystal, carve the initials or name of the person you're requesting protection for into the front candle. Then place the crystal on top of the greeting card and envelope.
Light the amber incense, and then light the three yellow candles with it. Place one amber stone in each hand, and meditate on the person you are sending the protection to, contemplating their current situation and needs for a few minutes. When finished, place one amber stone in front of the left-rear candle, and the other in front of the right-rear candle.
Pick up the person's photo or keepsake and smudge it with the incense wand, waving it over the top, bottom and sides to purify and charge the icon. Return the incense to it's holder. Hold the photo or keepsake in your right hand and meditate on sending positive and loving energy directly to this person. When you are done, return it to it's original position to the right of the candles.
We all can 'send' love to people that we know, even if they live in different parts of the world, without having to be attuned to any particular energy, or trained in an energy healing modality like Reiki. We just need our good intention, a pure heart and a desire to fill the world with light. And a structure for how to do it! ~ Abby Wynne
Next, take the greeting card and write a direct message to your loved one, listing all the wishes you have for their protection and how important they are in your life. When your message is completed, sprinkle one pinch of garlic powder for protection, a sprinkling of anise seeds for optimum health or healing, and one pinch of sea salt for physical stamina, into the center of the card. Fold the card, place it in the envelope and seal it.
Set the card in a very special place where it will be undisturbed. Place the crystal, two amber stones and keepsake on top of it. Blow out the three candles.
Burn the same three yellow candles and the amber incense nightly during your meditation sessions, or when you feel the need arising to send your loved ones extra protection. In this way you'll continue to send a constant flow of spiritual protection to your loved ones, no matter how far away or what circumstances they are going through.

About The Author: Susyn

Susyn lives in New Mexico, and offers Psychic Guidance, Astrological Insights and Channeled Messages that will change your life! Her credentials are top-notch and include a doctorate in metaphysical studies and certifications from The American Association of Professional Psychics and The American Tarot Guild. She's also a published author, with two metaphysical books under her belt, and has authored numerous articles and horoscope columns. In addition to her readings, Susyn is also a mentoring practitioner who teaches others how to master their own gifts, raise their vibrations, and empower themselves. A sought after guest on numerous radio programs, she has also hosted her own radio show. If you're looking for one of the truly bright shining stars who can also read them with an accuracy that will astound, look no further. You can find Susyn at PsychicAccess.com.


One Response to How To Send Spiritual Protection To A Loved One