The Moon's Phases Of Love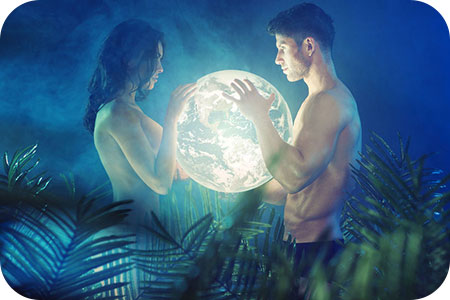 Followers of Astrology accept that the planets affect the cycles in our lives, including our love lives. But did you know the Moon's phases, which span roughly 29 days, are each a reflection of a different stage in a relationship?
The New Moon is a broader symbol of new beginnings and is the perfect time to begin something brand new. Try inviting a new love interest into your life, if you are unattached, or if you have a partner, try to take it to another level!
When the Moon is in its Waxing Crescent phase (growing from new), put in some extra work in your love life and build on momentum. It's also a perfect time for self-reflection and troubleshooting.
At First Quarter it's time to stop, take a few steps back, and look objectively at your relationship. Do you need to make adjustments? Is this a relationship you really want to pursue?
The Gibbous phase (between half and full) is a period of adjustment in yourself and your partner. You may start to feel a build-up of anticipation at this time. It's all right to relax, since emotions can run high leading up to the Full Moon. This is the moon at the peak of its energy… and represents a time when it's best to observe, rather than act. If you need time away from your partner, or want to recharge yourself, this is the very best time to do that.
The moon is the reflection of your heart and moonlight is the twinkle of your love ~ Debasish Mridha
When the Moon begins its Waning (shrinking) phase, look to what you've already learned from the higher energies of earlier phases. Is it time for a second date, or to give someone another chance? Don't neglect your own needs at this time either. As the moon begins disseminating, reach out to others for support and love. Get advice from someone you know who has a lasting relationship, spend time with a group of friends, or have a more platonic date with your love interest.
Once the Moon reaches the Last Quarter, we again transition to a time of reflection and re-adjustment. What is going well (or not well) in your relationship? Look back to your initial plan and see how it worked. This is also the best phase to break up if you feel you need to.
Remember that tomorrow is another day. When the Moon reaches its Balsamic (Second New Moon) phase, you once again have another chance for new love, or to simply enjoy the love that you've found.
Yours is the light by which my spirit's born: – you are my sun, my moon, and all my stars ~ E E Cummings
Unlike the planets, the Moon, to our eyes, is ever-changing. It reminds us that we need not stay 'stuck' in love, and that there is always opportunity for new love, for growth and reflection in love that we find, and insight to gain.
Whether you're single, or you've been with the same partner for years, look up to the skies tonight and see which phase you're in right now. Doing this will help you to become a better partner and a better lover. And don't forget the wine and candles, because you'll probably need them!

About The Author: Mystic Shelley

Mystic Shelley is a Psychic Medium. She has been reading for over 15 years helping and guiding people. She uses my 8 spirit Guides during her readings. She reads in the area of love, relationships, career, money and all matters of love. She will give you only honest and direct answers. Get a reading with Mystic Shelley now at PsychicAccess.com