Animal Afterlife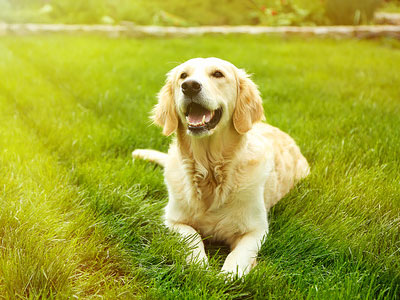 I was doing a remote viewing reading recently for a friend, whose golden retriever had gone missing, to see if I could locate the dog. I saw her in a pasture, near a barn. There happened to be a farm right up the road from my friend's house, so that is where she went.
She sent me a message later to let me know that she had found her Daisy, near a barn, like I had seen her. The owners had been trying to figure out who she might belong to. They had just taken a picture of her and was about to get posters made to share around, in hopes of finding her owner.
I was so happy for my friend, because she got Daisy four years ago, after her previous dog, Honey, had passed. Honey lived for nearly 8 years, before passing due to health issues. They were so connected, and she has always felt that Daisy and Honey have many similarities. She even felt at times that Honey's spirit may have reincarnated through Daisy. Honey also looked just like Daisy, both golden retrievers.
Animals share with us the privilege of  having a soul ~ Pythagoras
I told her at the time that that I strongly sensed that there was spirit connection between the two dogs. I asked her to send me a picture of Daisy. She emailed me a picture, and right next to Daisy in the picture was an orb, which I knew had to be Honey. I feel that Honey is Daisy's spirit guide. It was awesome to confirm for her what she always felt to be true. Honey is still around.
Just like humans, animal consciousness also continues on. Even though their physical furry goodness goes away, the essence of who they are, the love, their spirit, lives on. We have a special spiritual bond with our animal friends. Animals are pure light and love, and their spirit shines so brightly.

About The Author: Moon Goddess

Moon Goddess is a third generation empathic healer and seer. She started to give healing readings to people more than 20 years ago. She has always been interested and studied all things metaphysical from a young age. Being hypersensitive she can feel and see things before they happen. Utilizing the Tarot, and with the help of her Guides, she is a source of support for many people all over the world. After he passed over, her grandfather kept his promise and came back to say goodbye and gave her the most amazing experience. Moon knows there truly is a Heaven, and it is wonderful! Sharing her experience has helped many people after they have lost someone, or anyone experiencing some form of grief. Get a reading with Moon Goddess now at PsychicAccess.com.