Life Is Sweeter With Kindred Souls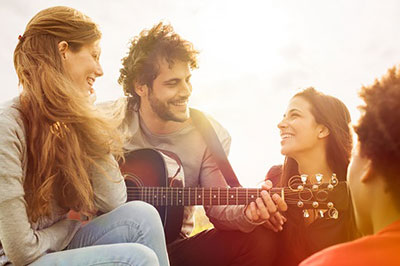 Some people simply add value to our lives. Kindred souls are true friends who make us feel that sharing space with them, or being around them, is right where we are meant to be. I call that comfortable, blissful feeling "being in Zen."
Then of course we have all experienced sharing space with toxic people who make us feel like we need to leave immediately, because if we don't take action we will soon start to feel depleted or drained. I like to describe that feeling as "going against the grain." It very much feels like I'm doing something that doesn't feel right, or that I am not where I'm supposed to be.
Let us be grateful to people who make us happy, they are the charming gardeners who make our souls blossom ~ Marcel Proust
I feel and believe we all have an internal GPS that tells us where we are and if it is in accord with what we know to be right and true. This internal GPS also tells us if we should be doing what we are busy doing, and whether we are in alignment with our higher self. It tells us if what we are doing will ultimately be good for our soul growth and soul evolution. When we are doing things that don't feel right, or good, it can very much feel like we are taking giant steps backwards, instead of progressing.
I really enjoy and adore spending time with those who I consider to be kindred spirits. I love spending time with them because they make me feel good and happy and positive, and I make them feel the same. I don't anticipate when I will leave there presence; I look forward to seeing them and savor every moment.
Take a moment to think about all the people in your life. Think about those that make you feel good, positive, peaceful and happy. Who are the people you can truly say you enjoy sharing space with? How many such people do you have in your life? If you have just one or two count yourself lucky. If you have more than a handful, consider yourself truly blessed! Try to spend more time with these people.
Likewise, try to reduce having contact with the ones who make you feel the opposite. Who are the folks who drop their poison upon you with their negative comments? Who are the people who make you feel guilty or inadequate – like you did something wrong. Recognize that it's not your fault and know that they may not even realize what they are doing. Instead of allowing this to continue, make a move to empower yourself and embrace your free will to change where and with whom you spend your time and energy.
Lots of people want to ride with you in the limo, but what you want is someone who will take the bus with you when the limo breaks down ~ Oprah Winfrey
You do have free will and can make different choices and decision for where you go and who you spend time with. You will find any dis-ease that you have been absorb will slowly go away. You will fill yourself with positive energy and happiness and in turn become healthier.
Kindred souls – those people we enjoy being around – are exactly the kind of people we need to spend more time with. If you feel you don't have enough of those people in your life, you can attract more kindred souls into your life. Simply think positive and visualize yourself connecting to people on the same frequency as yourself.
I like to pray for these people to enter into my life and that I be connected to them. I meditate often to raise my vibration, so that I can connect with others who are also at that same vibration, because like attracts like. Life is sweeter with good people in your life.

About The Author: Moon Goddess

Moon Goddess is a third generation empathic healer and seer. She started to give healing readings to people more than 20 years ago. She has always been interested and studied all things metaphysical from a young age. Being hypersensitive she can feel and see things before they happen. Utilizing the Tarot, and with the help of her Guides, she is a source of support for many people all over the world. After he passed over, her grandfather kept his promise and came back to say goodbye and gave her the most amazing experience. Moon knows there truly is a Heaven, and it is wonderful! Sharing her experience has helped many people after they have lost someone, or anyone experiencing some form of grief. Get a reading with Moon Goddess now at PsychicAccess.com.