The Mysterious Man Who Followed Me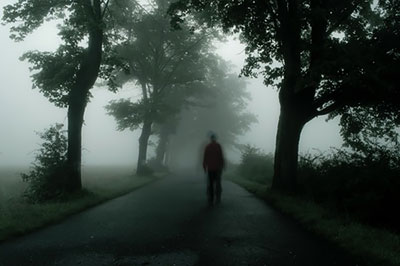 I kept seeing him. He would show up everywhere. I would be walking in the park and he would walk past me. Or I would be shopping at the supermarket, and he would appear between the isles… looking at me. He would appear to me walking on the sidewalk as I drove by. I even saw him the other day leaving the farmers market.
Do you ever experience seeing the same person over and over? You feel that they might be following you. It can get as creepy as feeling you have an actual stalker.
I finally realized who this person is just the other day, while talking with someone whom I haven't seen in a long while. My friend shared with me that her boyfriend had died in a boating accident several months ago, while he was out fishing. Apparently she has also been seeing him. I never met him, but she had told him of me when he was still alive. He had known that I am a medium.
Life is eternal and love is immortal; And death is only a horizon, And a horizon is nothing save the limit of our sight ~ Rossiter W. Raymond
The day before I figured this out, I was in the cemetery visiting a grave who belongs to a boy who passed due to a terrible accident that occurred in his yard. The child's grave was laden with rose petals that his mother had placed on his grave. I sat down by the grave and meditated and prayed to God to please tell me who this mysterious man is that keeps appearing, as its starting to really bother me.
As I was sitting with my palms up, one of the rose petals appeared in my hand. Obviously the wind must have blown in it my hand – I'm always thinking rationally too. But I then opened my eyes and saw him standing across from me, several yards away, and then he disappeared again. He vanished into thin air.
I got up and walked over to where his spirit had been standing and looked down. There was a fresh grave stone. And on it was inscribed his name. He had passed only a few months ago.
Several days later my friend contacted me and I shared with her that I had indeed been given a message for her. The rose petal meant love. He wanted me to tell her he loved her and that he is around. I also received other messages from him and shared with her that I knew where he was buried and how it was no coincidence that I was right where I was to see him the final time, and how he dispersed into thin air. He was able to cross over after he was able to get his message through to me.
We constantly receive spiritual messages and signs if we remain aware. We simply need to pay attention to our intuitive flashes and follow them, to get the answers we are looking for. The mysterious man that was following me was a ghost trying to get through to me. He wanted me to tell my friend that he will always love her and be there for her.

About The Author: Moon Goddess

Moon Goddess is a third generation empathic healer and seer. She started to give healing readings to people more than 20 years ago. She has always been interested and studied all things metaphysical from a young age. Being hypersensitive she can feel and see things before they happen. Utilizing the Tarot, and with the help of her Guides, she is a source of support for many people all over the world. After he passed over, her grandfather kept his promise and came back to say goodbye and gave her the most amazing experience. Moon knows there truly is a Heaven, and it is wonderful! Sharing her experience has helped many people after they have lost someone, or anyone experiencing some form of grief. Get a reading with Moon Goddess now at PsychicAccess.com.


This site uses Akismet to reduce spam. Learn how your comment data is processed.