Moldavite: A Connection To Higher Realms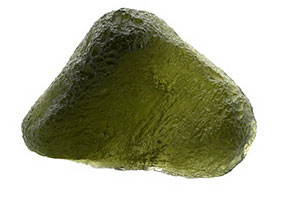 I love my crystals. I have many of them. I recently acquired one that I have been wanting for a very long time: Moldavite. I have heard many wonderful things about this crystal and so I just had to try it.
The only thing I didn't like about shopping for this new crystal was the cost. I went to a rock, gem and mineral show in my area recently and they had Moldavite for sale, but wanted the price of the Moon for it. After lots of meditation and prayer I received a vision during my quiet time and I knew exactly where to go: a metaphysical shop not too far from my home. There I found 6 grams worth of Moldavite for only $65! I feel I got a really good deal, considering most sellers were charging a lot more.
The degree to which your Consciousness expands, is the degree to which you understand yourself and the universe ~ Gina Charles
Once inside the shop I instantly felt where it was and went directly to the display case. I was warned that if it was too strong for me I could suffer headaches, even migraine. But I am a high vibrational person, so I wasn't concerned. My faith was deeply rewarded. Since I have purchased this little gem, I have had some really amazing powerful experiences.
When I first came home with it, I just sat quietly and held it. I felt very good, like I was flying, and I started to feel like I was connected to the spiritual realm even more than usual. I was getting vivid visuals and hearing clear messages from those that have crossed over. I also started to feel an overwhelming sense of love and warmth, which made me feel very emotional.
I decided I was going to connect with my Grandpa and my sister-in-law. My grandfather came to me in a visitation while I was awake in deep relaxation meditation, and in a vivid dream my sister-in-law came to me. I will blog about these experiences in future posts.
I'm currently experiencing other worlds, extraterrestrials, and  communicating with my higher self like never before. I would recommend that any and all Lightworkers, and all people who are on the awakened spiritual path, seek out Moldavite and use it during your meditation time, dream work, healing practices and psychic readings. It is a very high vibrational stone!
Moldavite was formed when a giant meteorite struck the earth and the heat of the impact metamorphosed surrounding rocks. It is said to have fused extraterrestrial energies with the Earth. It truly can take you to unseen realms of higher thought and connect you with other worlds. It has been used since the Stone age for good fortune and protection.
I know of no more encouraging fact than the unquestionable ability of man to elevate his life by a conscious endeavor ~ Henry David Thoreau
I am starting to use the stone in my readings for clients who wish to know who they were in a past life, as it helps me to access the Akashic Record. It has helped me to confirm what I have always known for myself about my own past lives. It also helps me to confirm what I feel about myself, loved ones and clients as to why we are here, and each person's unique soul purpose. Moldavite reveals why we are here, what we are supposed to be doing and what will give us the greatest amount of soul growth.
It is a wonderful crystal and it has helped me in the ascension process; it integrates the divine blueprint and accelerates spiritual growth by downloading so much useful information that I might need at any given time. I am looking forward to many more amazing experiences with my new Moldavite.

About The Author: Moon Goddess

Moon Goddess is a third generation empathic healer and seer. She started to give healing readings to people more than 20 years ago. She has always been interested and studied all things metaphysical from a young age. Being hypersensitive she can feel and see things before they happen. Utilizing the Tarot, and with the help of her Guides, she is a source of support for many people all over the world. After he passed over, her grandfather kept his promise and came back to say goodbye and gave her the most amazing experience. Moon knows there truly is a Heaven, and it is wonderful! Sharing her experience has helped many people after they have lost someone, or anyone experiencing some form of grief. Get a reading with Moon Goddess now at PsychicAccess.com.


Posted in

Afterlife, Crystals & Stones, Divination, Dreams, Lightworkers, Psychic Readings, Reincarnation / Past Lives, Spirituality
|
Tagged

afterlife, akashic record, aliens, awakening, communication, crystal therapy, crystals and stones, dimensions, energy vibration, etheric realm, extraterrestrial, faith, growth, healing, higher consciousness, higher self, highly sensitive person, life path, lightworkers, meditation, past life regression, past lives, planes, prayer, psychic readings, spirit realm, spiritual awareness, spiritual messages, spirituality, stones, unconditional love, visions
One Response to Moldavite: A Connection To Higher Realms
This site uses Akismet to reduce spam. Learn how your comment data is processed.