Prayers For A Prodigal Son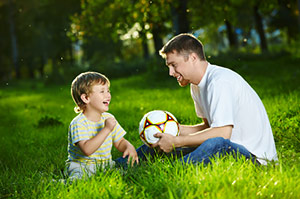 I had been wanting to write this for some time, hoping to use the right words to say this. I feel the time is now.
Recently, we celebrated another Father's Day in many countries all over the world. For the seventh year in a row I did not see my son, Raymond. Yes, as always I got my hopes up, only to be disappointed again. I usually try to prepare myself days in advance, to get myself out of a bad attitude for knowing that he won't be around.
I am sure there many fathers or mothers who do not get to see their children. I was a good father, and I know that no one can take that away from me. Father's Day is a lot harder to me than Thanksgiving or even Christmas, because that one day out of the year is to honor your parents. Both of mine are gone, but I still reflect on what I did for them when they were alive, and what they did for me.
My father gave me the greatest gift anyone could give another person, he believed in me ~ Jim Valvano
I felt is was time to once again try to get my son back into in my life. I decided I should reach out to him, and I wrote this long e-mail asking him what's up, and why he was no longer a part of my life.
I was a surprised when he wrote back. I was nervous about the email, too scared to open it up, because I didn't know what he was going to say back to me. It appeared he was searching for for the right answers. And I knew then he was not coming back, maybe because of guilt?
All that remains is for me to continue to keep the faith that someday he will come around. I remain open to the guidance of my spirit guide. All parents deserve to share a Mother's Day or Father's Day with their kids. With the guidance of our spirit guides or prayer, my wife tells me, Raymond will be back in my life. I guess I need to be more patient, as I so often tell my clients. I trust that one day Raymond will be back. He remains in our prayers every day.

About The Author: Raymond

Growing up on the streets of Columbus Ohio, Raymond learned at a very young age that he was gifted in many ways, including the ability to read someone's eyes and using a regular deck of playing cards to read the future! His mother was from a Native American family, namely the Black Foot tribe, and his father was German. Raymond discovered that both sides of his family had a psychic legacy. Over the years he has gained additional knowledge from books and by talking to trusted family members. Raymond has been doing psychic reading for others for over 3 decades, and over the years he gained many loyal clients from all walks of life. Visit Raymond for a reading at PsychicAccess.com