Why Do People Judge Others?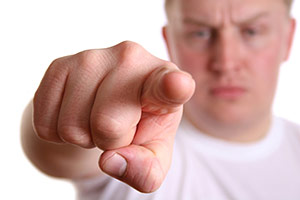 Why do people judge others? Have you ever walked down the street and someone would give you a weird look? Have you ever been in a store and someone would discuss you behind your back?
The reason I feel the need to be bring this up is because I get many calls on a daily basis where a client would tell me how someone has judged them or said something to hurt their feelings.
A week ago I had a caller who was upset, because the person who judged her believed that he can walk on water, and whatever he does in life… he is better than others. I felt bad for my client and I told her that she is better than what this man was telling her. He was trying to push her buttons. I feel when someone puts another person down by judging them, it is because they are trying to make themselves feel better.
Judge not, and ye shall not be judged: condemn not, and ye shall not be condemned: forgive, and ye shall be forgiven ~ Luke 6:37
In my personal life I get judged because I do psychic readings. On March 16th of this year I was really put to a test by a person I had known for over twenty five years. He believes that because I am reading cards, I am going to hell. Now, as a born again Christian I trust my own inner guidance. God knows I do psychic readings, because He is the one who gave me this gift.
What this person was saying to me contradicts Christian values in my opinion. What gives him the right to judge me? There is a reason why God put psychics on this earth – to help and guide others in a time of need. Everyone needs a little help now and again. Even as a psychic myself, I have had to reach out to other psychics, and also to ministers in the past.
I don't hide that I do readings from my fellow Christians. The way I look at it is that God gave all people their own unique set of gifts. I feel too many people have the wrong impression about psychics, I really do. We help people; we guide them and give them hope. We are doing God's work.
So when they continued asking him, he lifted up himself, and said unto them, He that is without sin among you, let him first cast a stone at her ~ John 8:7
I am not perfect and if I have ever judged others I never really meant to. Yes, it is part of human nature, because my parents never raised us to do that. I just think it sad that people sometimes say stuff on purpose to hurt others feelings, especially when they do so in the name of religion. It is a sin to judge others.
My Christian friend tried hard to push me around. He was like a bully on the playground looking for attention. I had no choice but to stand up him and put him in his place. I have also prayed for him.
When my phone rings and I have a client on the other end who is upset by the way they were treated by someone, I try to put myself in their shoes and do my job – not only as a psychic, but to really help them and give them the best reading I can ever give them. I want them to see that we care, that we have a gift that God gave us and we are here for them. One day that client will look back on the reading that I gave them, and share with others that everything I told them came true, and that their life did get better after all.

About The Author: Raymond

Growing up on the streets of Columbus Ohio, Raymond learned at a very young age that he was gifted in many ways, including the ability to read someone's eyes and using a regular deck of playing cards to read the future! His mother was from a Native American family, namely the Black Foot tribe, and his father was German. Raymond discovered that both sides of his family had a psychic legacy. Over the years he has gained additional knowledge from books and by talking to trusted family members. Raymond has been doing psychic reading for others for over 3 decades, and over the years he gained many loyal clients from all walks of life. Visit Raymond for a reading at PsychicAccess.com