The Old Man And The Christmas Bells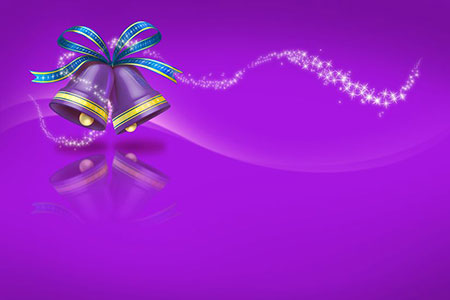 With Christmas upon us I have been hearing church bells every Sunday in recent weeks, just like in my younger years. Going back to those years in my mind, I can remember being very young when my mother was stopped by a man who told her he was the new pastor at this church far from our house. He looked younger than my parents and he asked my mother if we had a church that we go to. She told him we did not and the man gave us an invitation to attend his church.
Since this church was reasonably close to where I grew up, it was fun to walk there at first, but after a while it seemed like forever. But my mother made a promise to us kids that after church we could get a soda pop or an ice cream cone if we were good. Mom knew how to persuade us kids to go to church without a fuss.
When I first looked at the church is seemed big, but it looked very different from the Catholic church across the street. We opened the doors and were greeted by two old ladies who handed out the programs for the service. They also told me that I would meet my mother down here in the same place after Sunday school.
Next I met my Sunday school teacher. His name was Rusty and since I was the 'new kid on the block', he introduced me to all the other children. Since I didn't know any of them, I didn't know what to think. Then Rusty started with the lesson and once again it seemed like forever for Sunday school to be over.
Later, I met mom downstairs and as I was walking down the hall a older man greeted me. I greeted him in return, not thinking much of it. After we had been seated and the pastor opened with prayer, I remember looking around and noticing that the old man was not sitting in the same pews anymore. He seemed to have left.
When I was a kid, Toronto streets were deserted and quiet on Sundays, except for the sound of church bells I stood on the sidewalk one December listening to the Christmas bells – I've never forgotten that moment ~ John Geddes
After church I told my mom about this man that said hello, and that he walked out of the church service. She said maybe he only went to Sunday school and not church.
Well, months went by and it was getting close to thanksgiving, and I was able to make new friends at Sunday school and forgot about the mysterious old man.
After church service one day we had a pot luck, and my dad gave me a dime to get a 7 ounce soda pop, so I would have something to drink. When I went up to get the soda pop, I saw the same old man on his way to the men's room and I thought it would be nice to say hello to him again, which I did. When we sat down for dinner I told my parents I just seen the old man again. I wanted to point him out to them, so they can see him, but again he was nowhere to be found. The old man never came into dinner. So, I ask my dad to check up on him in the bathroom, since my dad was a fireman. If this guy his somehow hurt, my dad could help him.
We both walked into the bathroom and the old man was nowhere to be found. My dad asked me if I was sure I had seen him go into the bathroom and I told him I was. My father and I went back to where my family was sitting.
A while later the pastor made an announcement that there was not enough money in the church budget to get the church bells fixed before that year's Candle Light Service and he didn't know if there was enough time to even try to raise the money. Back in the sixties trying to raise all most $360 in such a short time was almost impossible; it was more than the average person earned in a month.
My father stood up and said he would try to raise money with the help of the fire station he was working at, and if anyone had any lose coins if they had any to spare they should contribute it right there and then. In the weeks that followed church members got together to bake cookies for a bake sale and several other projects were started to raise the money for the church bells.
The golden moments in the stream of life rush past us and we see nothing but sand; the angels come to visit us, and we only know them when they are gone.  ~ George Elliot
Well, as it got closer to Christmas it became clear that not enough of the needed funds were coming in as expected. So, the Sunday before Christmas the pastor got up before the offering and told the congregation how short the funds still were and asked people to contribute more if they could as collection plate were sent around. During the offering I turn to my left and again I saw that old man. I whispered, "Mom, dad there he is!" But once again he was gone.
Well, later that week my parents got a phone call for everyone could to meet at the church for an emergency announcement. So we got our coats on and rushed over to the church, and this time it didn't take long, since it was cold out and my dad drove us in  the car. We had to wait for everyone to get to the church, and the pastor sat with us and said that the church bells were going to get fixed after all! My parents were shocked and surprised. Where did all the money suddenly come from, they asked. But the pastor didn't know. He said they it was the biggest offering ever found in the collection plate.
I knew that it was this old man I had seen over and over. I sensed he had gifted the money and made it possible to have the church bells fixed. The story got out eventually about the man I kept seeing around church, but no one else could see him. It remained a mystery who this angel was, but the story of the charitable man who saved the church bells continues to be told.
After 40 years I recently received an e-mail from the church and the pastor called me yesterday, to ask me to come and talk about the old man in front of his congregation. I asked him if the bells still worked and he said yes! He told me once in a while he will get a call from a neighbor asking if the old man had returned to the church, because you can hear the bells and it is not Sunday.

About The Author: Raymond

Growing up on the streets of Columbus Ohio, Raymond learned at a very young age that he was gifted in many ways, including the ability to read someone's eyes and using a regular deck of playing cards to read the future! His mother was from a Native American family, namely the Black Foot tribe, and his father was German. Raymond discovered that both sides of his family had a psychic legacy. Over the years he has gained additional knowledge from books and by talking to trusted family members. Raymond has been doing psychic reading for others for over 3 decades, and over the years he gained many loyal clients from all walks of life. Visit Raymond for a reading at PsychicAccess.com