The Responsibility Of Psychic Service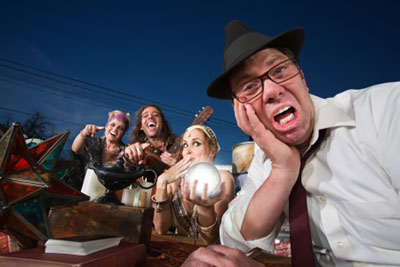 Recent psychic readings, and the sort of questions clients have been asking, have made me all the more aware of the responsibility of the work we do. A few words alone, a recommended path to follow, or a suggested course of action we advise, can have a huge impact on people's lives.
When I find myself feeling hopeless at the plight of the world, and its people and animals, I always remind myself: if I can just make a difference to the life of one person or animal today, then it's all worth it.
In 2004, I was working at a psychic fayre one Saturday. Before visitors arrived, one of the other psychics asked me to read for her, and insisted that she read for me in return. Her reading was so negative and threw me so off balance that I packed up for the day and went home.
The world howls for social justice, but when it comes to social responsibility, you sometimes can't even hear crickets chirping ~ Dean Koontz
I actually found the log of that reading among some old papers I was sorting out last week. She told me that my husband would die of a heart attack within two to three years. That was twelve years ago.
Despite the fact that I didn't even ask her about his lifespan, the reading upset me terribly at the time. I later found out from the organizers at the fayre that she had told a young couple who came to her for a reading the previous weekend the same thing. The organizers told me that the young wife was hysterical.
We are all teachers too, and often, especially if we have given an accurate reading to someone in the past, they will tend to hang onto, or be very much guided by what we tell them. So, we always need to take our responsibility seriously.
When I was training in the healing balance work I do, my mentor emphasized how we impact everyone around us, as we heal and are healed. I always feel uplifted whilst doing this type of healing work, so the ripple effect of it isn't surprising. Much, of course, depends on the intention behind the work we do – be it healing or readings. In a way it can also be very therapeutic for the client and ourselves.
Without ethics, a human race falls to inhumanity. Ethics determines your real value in this world and the hereafter ~ Nazim Ambalath
As our intention becomes more and more to the highest good of others, so others will feel this powerful force. They will also feel safe, at ease and at peace in our company, when they spend time with us in person or over the air waves.
I love what I do, and yet, sometimes the responsibility is a bit daunting. It is an honor that customers put trust in our work. It is important that we always remain aware that whatever they are going through is tough for them at this point in time. We should handle with care. I endeavor to see the true spiritual essence in each of my clients, beneath any fears expressed in the way of anger or jealousy, or any form of addiction. Our true spiritual essence is, after all, love.

About The Author: Shani

Shani is a qualified practitioner in Reiki, aromatherapy, reflexology, body spin, and animal telepathy who received psychic development training at the Arthur Findlay College of Psychic Research in England. A published writer, her articles and predictions have appeared in several respected magazines and on psychic websites, and she has read for many celebrities and even heads of state in Africa. Though she was born in London, Shani has traveled the globe and has studied the art of African Mysticism, bringing her unique flavor to those seeking her incredible talents. Get a reading with Shani at PsychicAccess.com.