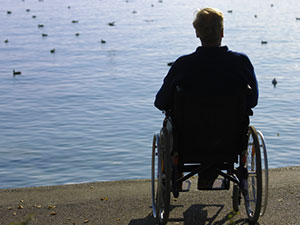 A spiritual teacher and metaphysical writer was waiting to board a plane. She had a spiritual book in her lap and was very intent upon what she was reading, until she felt summoned by Spirit to look up.  When she did, she saw such a strange sight she had to try to keep from staring.
Humped over in a wheelchair she saw an elderly man. He was skin and bones, dressed in clothes that obviously fit when he was at least twenty pounds heavier. His knees protruded from his trousers, and his shoulders looked like the coat hanger was still in his shirt. His hands looked like tangled masses of veins and bones.
Wherever there is a human in need, there is an opportunity for kindness and to make a difference ~ Kevin Heath
The strangest part of him was his hair and nails. Stringy, gray hair hung well over his shoulders and down part of his back.  His fingernails were long and clean, but strangely out of place on an old man.
Beth looked down at her book as fast as she could, discomfort burning in her face, and tried to imagine what his story might be. She found herself wondering if she had just had a Howard Hughes sighting, but then she remembered that he is dead.
So, who was this man in the airport…an impersonator maybe?  Was a camera on them somewhere, she wondered. There she sat; trying to concentrate on her book, to keep from being concerned about a thin slice of humanity served on a wheelchair only a few seats from her. All the while, her heart was growing more and more overwhelmed with a feeling of concern for him. Curiosity is a heap more comfortable than true concern, but suddenly Beth was awash with aching emotion for this bizarre looking man.
She had worked with Spirit long enough to see the handwriting on the wall. Beth had learned that when she began to feel what the universe feels, something contrary to her natural feelings, something dramatic is bound to happen…and it may be embarrassing. She immediately began to resist and started arguing with Spirit in her mind. "Oh, no, Spirit, please no," she thought, but asked, "What are you calling me to do"?
We think too much and feel too little. More than machinery, we need humanity. More than cleverness, we need kindness and gentleness ~ Charlie Chaplin
The words were so clear, her heart leapt into her throat, and her thoughts spun like a top. Spirit said simply, "I want you to brush his hair". Beth said to Spirit, "I don't have a hair brush. It's in my suitcase on the plane. How am I supposed to brush his hair without a hair brush?"
She stumbled over to the wheelchair thinking she could use one herself. She knelt down in front of the man and asked as demurely as possible, "Sir, may I have the pleasure of brushing your hair?"
He looked back at her and said, "What did you say?" She repeated, "May I have the pleasure of brushing your hair?" To which he responded in volume ten, "Little lady, if you expect me to hear you, you're going to have to talk louder than that."  At this point, Beth took a deep breath and blurted out loudly: 'Sir, may I have the pleasure of brushing your hair!"

PsychicAccess.com.


Mountain Sage's profession is Metaphysical Academics. Her extensive training includes Oracle, Healing, Universal Laws & Principles, the Sacred Circle and Psychic Shielding. Focus includes Ascended Masters, Altars, Minerals, etc. She holds the great honor of Oracle Carrier by her tribe due to her outstanding psychic ability, passion for the psychic realm, integrity and sacred work. Get a psychic reading with Mountain Sage at
3 Responses to "The Elderly Man And The Hairbrush – Part One"