Astrology Forecast May 24 – 30, 2021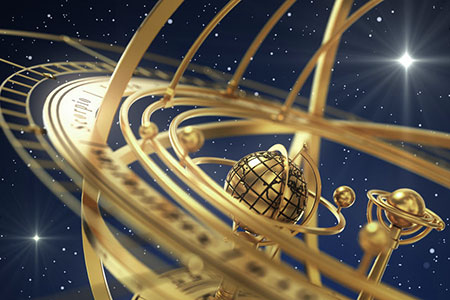 The astrological highlight this week is Wednesday's Sagittarius Full Moon, as well as a significant Lunar Eclipse. Eclipses typically come in pairs: lunar and solar. They generally happen twice a year, and when they do, their goal is to shift our focus for the next six months. Once we complete the process the eclipses have generated, we become more ready to move forward into new enterprises and goals.
This week's Lunar Eclipse is a Super Flower Blood Moon, as it will take place just a few hours after the Moon reaches its closest point to Earth on its orbit. It is the biggest Super Moon this year and marks the beginning of a series of four major lunar eclipses over the next two years. Three of these eclipses will be total, while the one in November this year will be a partial eclipse that will be so deep that ti can almost be also be considered a total eclipse.
A Super Moon is bigger and brighter than a normal Full Moon, because it occurs when the Moon is closer in distance to Earth. Super Moons tend to amplify the astrological traits of the zodiac signs. This week's Super Full Moon may therefore highlight the shadow side of Sagittarius, such as the tendency towards impulsive restlessness and boredom; being more easily taken advantage if you are a highly compassionate person; being too direct or even tactless in social interactions; as well as the possibility of being a little too independent in your thoughts and actions.
This week's lunar eclipse will call for us to pull back our emotions and look at things from a more rational and pragmatic perspective. For the next two weeks, our focus should be on our external circumstances. We should be seeking justice and balance in our lives, and aim to create more security and stability. Once the next Solar Eclipse happens on June 10th, we'll need to reverse this external, objective focus to an inner perspective focusing on our emotional well-being.
In the meantime, make every effort to stay grounded and centered on Wednesday, as the Full Moon in Sagittarius can also cause one to feel moody and restless. Avoid making rash decisions, try not to overreact, avoid potential family conflicts and hold on to your inner calm and peace.
Mercury will also be turning retrograde again on Saturday, so it may be wise to backup all your electronics and prepare for possible electronic malfunctions, digital glitches and miscommunication of all kinds for the next three weeks. Postpone the closing of deals and signing contracts. Also, look out for a rare conjunction that will result in a 'planetary kiss' between a super bright Venus and a receding Mercury on Friday 28th. Such a brief coming together of the two planets that rule communication and love makes this a perfect moment to tell that someone special how much you love them.
Our most productive days of the week will be Friday and Saturday as the Moon travels through diligent Capricorn. Sunday is all about socializing and connecting with friends and loved ones under the Aquarius Moon.

About The Author: Susyn

Susyn lives in New Mexico, and offers Psychic Guidance, Astrological Insights and Channeled Messages that will change your life! Her credentials are top-notch and include a doctorate in metaphysical studies and certifications from The American Association of Professional Psychics and The American Tarot Guild. She's also a published author, with two metaphysical books under her belt, and has authored numerous articles and horoscope columns. In addition to her readings, Susyn is also a mentoring practitioner who teaches others how to master their own gifts, raise their vibrations, and empower themselves. A sought after guest on numerous radio programs, she has also hosted her own radio show. If you're looking for one of the truly bright shining stars who can also read them with an accuracy that will astound, look no further. You can find Susyn at PsychicAccess.com.