The Karmic Fruit Of Our Past Life Seeds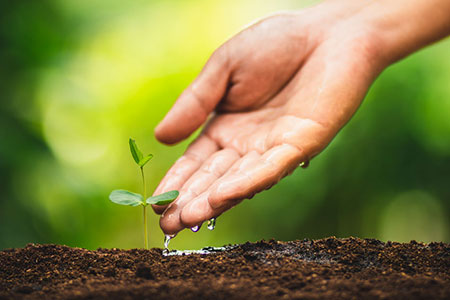 To be the architect of our own destiny is a spiritual concept that has been spoken of for thousands of years. The Vedas call it Karma. The Bible refers to it as 'reaping what you sow.'
Karma is a Sanskrit word that means action, as well as reaction. It has made its way into our everyday language to represent the good or bad we create in life that will eventually come back to us.
However, the true meaning of karma goes much deeper than that. In this life it does refer to 'sowing and reaping' in the short-term, but it also extends into the long-term, over thousands of years and many lifetimes.
The Padma Purana, an ancient Hindu encyclopedic text of spiritual truths, compares karma to seeds that are sown and harvested in due course of time. It explains that every activity we perform bears four kinds of effects. The first is merely a seed, the second is not yet fructified, the third is in the process of being fructified, and the fourth has blossomed and is already mature.
The karma we are experiencing today, are the sweet and sour fruits of the past seeds we have planted, – not only in this lifetime, but also from thousands of years and lifetimes before this life.
Therefore, we may not be able to recognize why certain things are happening that seem out of sync with the efforts and energies we are extending in the now. Similarly, it may sometimes be disheartening and difficult to understand why the desired results of our best endeavors do not appear to be coming to fruition.
To thoroughly resolve these misgivings, a broader scope of our soul's journey before and beyond this one body and lifespan must be considered. Clarity can come with spiritual vision and higher consciousness.
Karma comes after everyone eventually. You can't get away with screwing people over your whole life, I don't care who you are. What goes around comes around. That's how it works. Sooner or later the universe will serve you the revenge that you deserve ~ Jessica Brody
We must consider the possibility that we are now receiving the fruits of the seeds we planted perhaps in a past too distant to remember, just as we are now creating a destiny that may sprout far into a future, when we no longer recall our current activity and identity in this body.
Meanwhile, seeds of karma almost fructified will continue to come into their time when they are ready. What comes up tomorrow, or next month may not be what you diligently put into action and consciousness yesterday, or last year. Yet all will arise in the perfect divine time.
Karma carries a divine purpose. It is not to punish or reward, but to purify and transform. Reaping the consequence of our choices and actions is an educational feature of the benevolent divine design to reform and restore the eternal soul to its original constitutional nature of service.
Still others commit all sorts of evil deeds, claiming karma doesn't exist. They erroneously maintain that since everything is empty, committing evil isn't wrong. Such persons fall into a hell of endless darkness with no hope of release. Those who are wise hold no such conception ~ Bohidharma
The one thing the soul possesses is freedom of choice to love and serve the Supreme Enjoyer, Controller, and Creator of all, or to endeavor independently to be the separate center of enjoyment and power. Vedic texts like the Padma Purana explain that self-centered choice brings an endless cycle of pleasure and pain as a karmic harvest of sweet and sour fruits, and that only devotional choice carries the potency to burn the seeds of reaction to ashes, nullifying and transcending karma completely.
Bhakti-yoga is the Sanskrit term for the linking process of love that serves God in the three features of Universal Energy, Holy Spirit in the heart, and Supreme Divine person. When the soul realigns with that loving center and purpose, the karmic education is complete and one graduates to eternal knowledge and bliss, beyond past, present, and future.

About The Author: Lotus Grace

Grace is the epitome of her name, having endured a troubling childhood that paved the way for an adult, gentle, energetic grace that she now delivers to others through the gifts of movement, dance, and through her many intuitive gifts that she shares with her clients. For 30 years, this Hudson Valley, NY State resident has cultivated a unique way of helping others, drawing upon God as her best friend, advisor, and the all-encompassing force that is the bedrock of her faith. Her journey has led her to heal and grow through the mud of life and compassionately support others to do the same. She's immersed in the world's diverse faiths with a core that is deeply rooted in more than three decades of immersion in the spiritual practices and wisdom of devotional lineages. Her inner relationship with God/Spirit has deepened the intuitive sights, sounds, scents, and senses that unfold profoundly when she dances. Since 2004, Grace has run a spiritual healing arts and dance sanctuary, where she intuitively nurtures children, teens, and adults. In her client readings, she taps into her Empathic, Clairvoyant, Clairaudient, Intuitive healing to help clients access the divine guidance they need. If you're searching for a little added Grace, spiritual energy, and the answers you need, you can find Grace at PsychicAccess.com.