Embrace The Many Blessings Of Autumn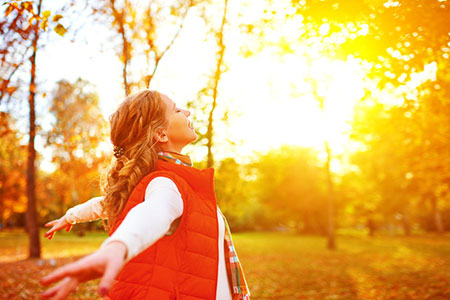 As we approach autumn and transition through yet another season of beauty and wonder, let us reflect on our place within this most magnificent Universe. This beautiful time of the year is sometimes overlooked for its lack of summer and winter adventure. As it is neither hot nor cold, autumn brings us balance and provides us with the perfect climate for 'cooling off.'
Metaphysically, this a period for each of us to step back and become more introspective, acknowledging the blessings that have been placed at our feet. This is also a time to peel away the old, to make room for the new. It is a time of self-renewal at a deeper level, that will guide us through the winter of our lives and ultimately into the newness of spring.
Science teaches that the cycles of the seasons occur as a result of our planet tilting on its axis, as well as its orbit around the sun. As the axis faces the Sun, our respective hemisphere celebrates the warmth of summer, while the hemisphere tilting in the opposite direction, away from the Sun, welcomes winter. This seasonal change, in turn, makes our days shorter and our temperatures cooler.
We can further observe other changes within the natural world around us, as vegetation slows down, trees lose their leaves, and animals scurry to prepare their nests and dens for winter's dearth. But autumn is also a season of vast abundance, with the harvesting of a plethora of crops, especially here in North America, where much of the world's staples ripen and fall at our feet.
Aprils have never meant much to me, autumns seem that season of beginning, spring ~ Truman Capote
I would like to challenge you to embrace the many blessings of autumn by experiencing this most amazing season firsthand. If you are able to walk through your neighborhood, or visit a park, take note of the natural world around you. You can do this from a window, if you don't have the capacity to be outdoors. Yes, the trees are changing their leaves and shedding mounds of color, which fertilizes the ground beneath and serve as blankets or nests to wildlife species.
This natural chain of interdependence we see during this particular season is a reminder that Spirit is always working in our lives, even when we can't see that an answer is near, or help is on the way. This is a reminder that even during harvest time, or when everything seems to die back, seeds are being planted that will meet each of our needs for the months to come. This is the endless cycle of blessings that each of us has access to.
Autumn carries more gold in its pocket than all the other seasons ~ Jim Bishop
Please ask yourself, where is your place within this elaborate seasonal event? Are you enjoying with deep gratitude the abundant harvest that's been placed at your feet? As a being of high intelligence, are you mimicking the natural world around you and shedding what you must in order to make room for the new?
Be a steward of grace this season and give yourself and others the gift of letting go of all that does not serve your highest expression of the divine self. Make room for an improved version of yourself and all that the enlightened you will inevitably create and share.

About The Author: Shawna

Shawna lives in the American Southwest and is a third generation Spiritualist and Clairvoyant. She recognized her own gifts at a young age, fully embracing her calling as a Clairvoyant, Medium, Spiritual Astrologer, Tarot Reader, Aura Reader, Water Reader, and Healer, training under the tutelage of some truly gifted mentors. Shawna utilizes her natural psychic gifts to help individuals navigate through personal challenges and discover the higher manifestations of their life paths. She's provided positive, spiritually responsible, and ethical readings in-person, over the phone, and online, and has read for clients in Los Angeles--at psychic fairs--and at the Crystal Gaze Spiritual Center, in Lakeland, FL. She is also a trained practitioner in Clinical Herbalism (University of New Mexico), Ayurveda Medicine (San Diego College of Ayurveda), and Reiki. Shawna has channeled messages for political leaders, celebrities, and has accurately predicted the outcome of national campaigns, as well as a big career opportunity for a talented actor that resulted in a Tony Award! If you'd like an enlightening and empowering, full-spectrum of guidance, you can find Shawna at PsychicAccess.com.