No More Procrastination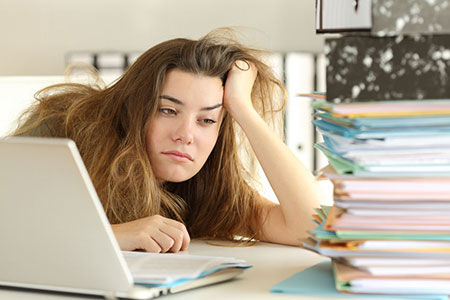 Do you also procrastinate? Procrastination is the avoidance of doing a task that needs to be accomplished by a certain deadline. Or do you sometimes intentionally delay the completion of a task, despite knowing it might have negative consequences? Ninety five percent of people procrastinate at some point in life.
To break the habit of procrastination we must find some self-compassion when a task at hand causes us stress just thinking about tackling it. Some tasks just seem too big or overwhelming, and we can't seem to motivate ourselves to get it done.
Procrastination makes most people feel guilt and shame. For some extreme procrastinators, negative feelings may trigger another reason not to complete a task. Only to become a vicious cycle of self-defeat. Most procrastinators tend to put off endings, as well as beginnings and commitments.
I have a close friend that has all kinds of ideas for a book she is writing. While collecting material, she put of starting the actual writing for three years. She felt she needed several points of view about the subject matter. She always needed one more.
Now, 13 years later, she can't seem to stop writing the same book. The idea of being an author just feels so good to her now. The added benefit of this is that whenever she is asked what she has been up to, she loves to say, "I'm writing a book.".

Some of her procrastination is also about fear. If the book is finally done, and off to the editor and the publisher… what if it is rejected? If it is never finished, it can't be rejected. Much safer option. For most people procrastination is simply about fear… fear of success and fear of failure.
It was my fear of failure that first kept me from attempting the master work. Now, I'm beginning what I could have started ten years ago. But I'm happy at least that I didn't wait twenty years ~ Paulo Coelho
The book has also been an emotional burden to her for years, creating unnecessary guilt and shame when people keep asking her if the book is done yet.
It is said procrastination is around five percent genetically influenced, so we can all partly blame our family heritage for this bad habit.
I am also guilty of procrastination. I have been saying for years that I want to sell the old family home, which I inherited. It is the house I grew up in. We keep taking things out of it, only to buy new things to replace it with…and make it better. So, finally, I had to ask myself why I was procrastinating this. The answer was that I love the house and its nostalgia… all the memories of family gatherings and my wonderful parents. Also, I must admit, the moment something more integrating and fun comes along to do, I'm off and running for that instant gratification.
It is so overwhelming to start the process of selling the house. It is such a task to clear it out an old house. Do I keep an item, give it away or trash it? After all, even though we have not used something for over two decades, someone may need it someday, or it may be worth money? Although, I know I will never do a yard sale. Getting rid of my family heirlooms just seems wrong, even though other family members don't seem to want anything.
The really happy people are those who have broken the chains of procrastination, those who find satisfaction in doing the job at hand. They're full of eagerness, zest, productivity. You can be, too ~ Norman Vincent Peale
As a medium, I know for sure that when we pass away, all attachment to earthly goods becomes non-existent and irrelevant. So, I'm trying to take the advice that spirit gives many of my clients. Take pictures of things and keep copies on electronic devices. This helps one to let go of material things. My current goal is to have a 'for sale' sign on that house by next year!
For my life partner, procrastination is about the right timing… it's never the right time to start or finish a project. He can start a project, then get distracted by something else that starts a chain reaction of, "I can finish the first project later." Only to forget about it for several days.
So, how does one change the procrastination habit? Firstly, you must recognize and admit that you are procrastinating. Figure out why you are. Forgive yourself for procrastinating. Then commit to the task and focus on doing rather than avoiding the task. Tackle each task as soon they arise. Change from 'I need to,' to 'I choose to' do it. Minimize distractions. Avoid social media and the television set. Get the unpleasant tasks done first. And know that you are not the only person in the world procrastinating.

About The Author: Elizabeth

Elizabeth's talents go back several generations. She found her own gifts and embraced them at an early age, recognizing the difference between herself and most others around her. She's since honed and mastered many metaphysical practices, providing hypnotherapy, Psychic Mediumship, Mysticism, and Hypno-Reiki to her clients in Maine, and in areas around the US and in Canada, where she travels. A lover of pets, they are her greatest teachers and these unconditionally loving creatures often chime in on a reading in addition to the Angels, Guides and loved ones who provide resolution and answers for each of her clients. Elizabeth is also an author with much spiritual wisdom to impart and is currently working on a book. If you'd like to be a recipient of her unique Psychic Wisdom, find peace and receive answers that will also benefit your highest good, you can reach Elizabeth at Psychic Access.