Ritual For Manifesting Your Every Desire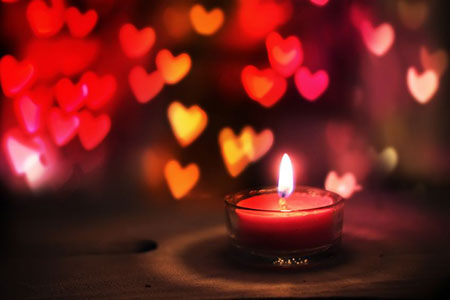 I recommend the following ritual for manifesting your every desire. The ritual is designed to create your intent, infuse it with power and then allow the Universe to bring a specific request, outcome, goal or dream into being.
Supplies
2 votive candles: 1 purple, 1 color of intent (see below)
Intent incense (see below)
Stone of intent (see below)
Manifestation journal or notebook, and pen
Bell
Intent Candles, Incense, and Stones
Love: Pink Candle, Rose Incense, Rose or Clear Quartz
Money: Green Candle, Amber Incense, Jade or Emerald
Health: Yellow Candle, Rain Incense, Tiger's Eye or Amber
Career: Indigo Candle, Sage Incense, Sapphire or Lapis Lazuli
Spiritual: Purple Candle, Lavender Incense, Opal or Moonstone
Protection: Orange Candle, Jasmine Incense, Amethyst
Other: Red Candle, Patchouli Incense, Obsidian or Jet
You must have a vision before you can manifest anything ~ Germany Kent
Preparation
Decide upon the specifics of your manifestation and gather the necessary intent-related objects. Wear colors to match the candle of intent you have selected, and play New Age, meditation or classical music in the background. This ritual should be practiced on a daily basis until your dreams are fulfilled.
The Ritual
Begin by lighting your incense. With the incense wand, first light the purple candle and then your candle of intent. Place the intent stone in your right hand and begin visualizing your request, being as specific as possible about your desire. Meditate for three to five minutes on what you want to manifest.
Transfer the stone to your left hand, and request aloud that the Universe bring your desired manifestation to you in the ideal form, manner and timing as Destiny dictates.
Next, place your stone of intent at the top of the first page of your manifestation journal. Formulate an in-the-now manifestation statement. For example, "I have met my true soul mate and am now sharing my life with him." Or, "I have won the lottery and have endless money at my disposal." Or, "I work at my dream job in a great company."
Be as specific as you possibly can when formulating your manifestation statement. A generic statement such as, "I have lots of money," could produce more money, but without being specific, is subject to interpretation. It could produce an unwanted burden of more work in your current job, for example.
Within you is the divine capacity to manifest and attract all you desire ~ Wayne Dyer
Once you have formulated a clear, concise and specific manifestation statement, write it at the top of the first page in your journal. Then rewrite it four more times. When finished, complete the writing with, "So be it!" or "Amen".
Ring the bell once, blow out the candles, and leave the stone on top of your notebook, placing your objects of intent somewhere where they will not be disturbed.
Each day, light the two candles with your incense wand, turn to a new page in the notebook, and write your manifestation statement another five times, ending with, "So Be It" or "Amen". Ring the bell once to complete the ritual.
Daily repetition will show the Universe you are ready and willing to do whatever it takes to bring your requests to life, in their perfect form, when the time is right.

About The Author: Susyn

Susyn lives in New Mexico, and offers Psychic Guidance, Astrological Insights and Channeled Messages that will change your life! Her credentials are top-notch and include a doctorate in metaphysical studies and certifications from The American Association of Professional Psychics and The American Tarot Guild. She's also a published author, with two metaphysical books under her belt, and has authored numerous articles and horoscope columns. In addition to her readings, Susyn is also a mentoring practitioner who teaches others how to master their own gifts, raise their vibrations, and empower themselves. A sought after guest on numerous radio programs, she has also hosted her own radio show. If you're looking for one of the truly bright shining stars who can also read them with an accuracy that will astound, look no further. You can find Susyn at PsychicAccess.com.