Your Life Path Number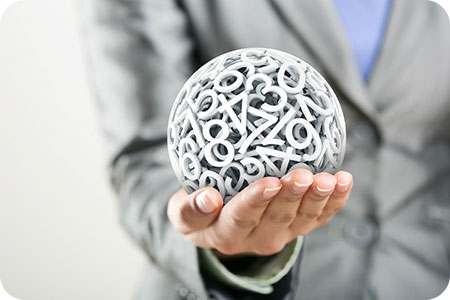 When it comes to our birthdays, we may think of our zodiac sign first, but did you know numerology is just as insightful? Each of us has a Life Path number which can be easily determined by our date of birth.
For example, the Life Path number for someone born on January 14, 1974 is 9. January is the first month of the year (1). The 14th reduces to 5 (1+4). The year 1974 reduces to 3 (1+9+7+4=21; 2+1=3). When we add each of these together, we get 9 (1+5+3).
Everyone has a Life Path number between 1 and 9. Life Path 1 people are, not surprisingly, natural leaders and go-getters. Their 2 counterparts are usually peacemakers and diplomats, as in the phrase, "I am second." A 3 person is usually creative and good at connecting with others, while 4's are pragmatic problem-solvers. If you have a 5 Life Path, you are a compassionate person determined to better the world. Those born under 6 tend to be domestic and make good parents, while 7 people are known for being investigative and quick minds. If you have an 8 as your life path, you are ambitious and must guard against being a workaholic. And those under 9 are known for their compassion and warmth.
Knowing your Life Path number, what do you do with it? It can be used with other metaphysical and psychological tools related to your birthday, such as your Zodiac natal chart, or personality archetypes like the Meyers-Briggs profile and the Enneagram.
Instead of viewing your Life Path as carved-in-stone, think of it instead as a starting point or a foundation. If you're stuck in a unsatisfactory career, or have difficulty with relationships, gaining insight into your Life path number may help. Going against our natural tendencies is difficult, and in the long run, might be harmful. Knowing your inborn strengths and weaknesses is a powerful tool which can help get that ideal career, or find the partner we want, and gain a greater sense of self-knowledge and autonomy.
The numbers in your date of birth represent your own sacred starting point –  the precise numeric sequence into which you were born. This describes the special nature of your individual journey. It is the main path you will travel in this lifetime, and is the most powerful of all your personal numbers. ~ Christine DeLorey
If you're discovering your Life Path number for the first time, read up on what that means, and how it relates to your life. For example, a person with the 9 Life Path may be fearful or anxious about things in their life, such as money, social relationships, and work. In their spiritual practice, they could instead come up with all the positive aspects those problematic subjects bring. For example, money allows the purchase of self-care, employment provides money, and so forth. Like the other aspects of our Sacred Self, our Life Path is intended to provide individual insight. Again, think of it as a journey rather than a destination!
The best thing about Life Path numerology is that, unlike an astrological chart, it's not something which takes a lot of time or effort to calculate. Once you have that special number, it's going to open up a set of insights and challenges just as unique as you are.

About The Author: Mystic Shelley

Mystic Shelley is a Psychic Medium. She has been reading for over 15 years helping and guiding people. She uses my 8 spirit Guides during her readings. She reads in the area of love, relationships, career, money and all matters of love. She will give you only honest and direct answers. Get a reading with Mystic Shelley now at PsychicAccess.com