Gone Too Soon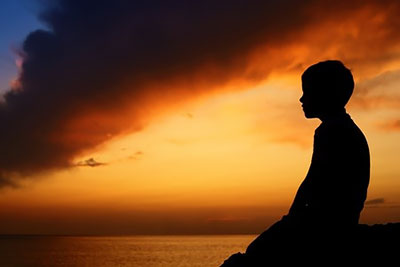 When I was younger, I used to always love going to the cemetery. I just loved spending time there reading, or contemplating all the mysteries of life. I would connect with my higher consciousness and enjoy the silence. It is one of the few places I was able to disconnect and separate myself from the drama and chaos of the world, and embrace stillness and solitude.
I have started visiting the cemetery again recently, but this time with a heavy heart. I have been visiting the grave of a young child who crossed over way to soon.
A friend of a friend lost her son to a terrible accident, while playing in their yard. I had always felt something tragic was going to happen if a certain dangerous item was not removed from the yard. I had mentioned this on several occasions to our mutual friend, but sadly the necessary changes were never made.
This was how to help a family who has just lost their child. Wash the clothes, make soup. Don't ask them what they need, bring them what they need. Keep them warm. Listen to them rant, and cry, and tell their story over and over ~ Ann Hood
A week or two before this terrible accident, I was again feeling the urge for my friend to mention my concern to the boy's parents. I had met the boy's mother and she is aware of my psychic abilities. I think I even pulled up both her and her son's astrological birth charts one time, and I also did some other fun psychic things for her. I knew that she would take action if she knew I had this premonition. I urged our mutual fried to ask the boy's parents one more time to remove the hazardous item.
He did mention it to them, but once again nothing was done about it. When I asked why, he said, "They want to keep it up as it had been up there for year. It is his little play thing and he likes it."
I think one of the most difficult things for an intuitive empath is to feel an ominous foreboding so strongly when no one cares to listen or take you seriously. I have had people roll their eyes at me like I am crazy, after trying so desperately to help them.
Then came the heartbreaking news. The child is no longer with us. I vividly remember standing up in anger, as tears filled my eyes. I said, "I told you to get rid of that thing, to remove it, why didn't you?" All my friend could do was cry too.
I am still dealing with my anger. And my sadness….and guilt. Did I do everything in my power to prevent this? Was there more I could have done? Ultimately, whether you're psychic or not, you can try to help others, but people are going to do what they are going to do. Where does my responsibility as a psychic begin and end? Should I maybe have gone there at night, trespass, and remove the hazard myself?
Do not judge the bereaved mother. She comes in many forms.  She is breathing, but she is dying.  She may look young, but inside she has become ancient. She smiles, but her heart sobs.  She walks, she talks, she cooks, she cleans, she works, she is, but she is not, all at once.   She is here, but part of her is elsewhere for eternity ~ Author Unknown

I continue to visit the boy's grave once a week to say a prayer for him. Then I sit quietly and just listen for any messages that he may have. I didn't know him personally, but I knew of him through others. He had just turned 12 and he was friendly with many of the kids in the neighborhood. They all liked him and said he was a great friend. He was creative, smart, imaginative, and very close with his mom.  When I drive though his neighborhood, as I often do, I still see him from time to time on his bike for a split second and sometimes where he used to play in his yard.
I feel strongly from the visions I get, when sitting near his grave, that he visits his mother every morning and night to kiss her forehead. The love cord connection will keep those two connected for all of eternity. Everyone you love will ultimately be connected to you for all of eternity.
If you have children at home, please be mindful of where your children play and any safety hazards in their environment. If something looks dangerous, remove it. The most harmless things could potentially result in a terrible accident, and or death. Being  proactive has an effect on our future, our safety and our well-being.
About The Author: Moon Goddess

Moon Goddess is a third generation empathic healer and seer. She started to give healing readings to people more than 20 years ago. She has always been interested and studied all things metaphysical from a young age. Being hypersensitive she can feel and see things before they happen. Utilizing the Tarot, and with the help of her Guides, she is a source of support for many people all over the world. After he passed over, her grandfather kept his promise and came back to say goodbye and gave her the most amazing experience. Moon knows there truly is a Heaven, and it is wonderful! Sharing her experience has helped many people after they have lost someone, or anyone experiencing some form of grief. Get a reading with Moon Goddess now at PsychicAccess.com.


This site uses Akismet to reduce spam. Learn how your comment data is processed.