Pinks Are Bona Fide Do-Gooders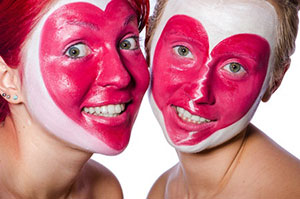 Colors operate from a more truthful meaning than most people may realize. We are very connected to particular colors and the meaning is relative to each individual.
Those that operate from a "Pink" format are easy to recognize. They are the loving, caring people we come across in life who are friendly and talkative, spread kindness everywhere they go and want everyone to feel good, and would prefer that we did not harbor any bad feelings or ill will towards others. They are bona fide do-gooders – always on call to give a helping hand. They love to hold and cuddle babies, and continually look for the goodness in others. They fail to see the shortcomings of those the rest of us feel fit to judge.
Interestingly, Pinks quite frequently have a weight problem, mainly since they do not see the need to sacrifice themselves to some obscure diet and are notorious for a total dislike of the idea of exercising.
I believe in pink. I believe that laughing is the best calorie burner. I believe in kissing, kissing a lot. I believe in being strong when everything seems to be going wrong. I believe that happy girls are the prettiest girls. I believe that tomorrow is another day and I believe in miracles ~ Audrey Hepburn
Pinks operate well in groups and are not too thrilled to be left to their own devices. They enjoy the company of others and a grand trait that Pinks share is that they have no problem enjoying and celebrating the success of those they care about.
You generally will not find Pinks in what you might call "highly successful positions" as their success arrives in the power of their own being and the love and enjoyment of others. They naturally have a calming effect on those in their vicinity and must be pushed greatly before any angry display of emotion is shown. They are highly protective of those in vulnerable situations, such as children, people with disabilities, or seniors in need of care.
Pinks live inside of themselves with an inherent childlike quality that continually sees the wonder in the world, even when it lacks luster for the rest of us.
They seldom receive thanks for a great deal of their undertakings, and they would be somewhat confused to be on the receiving end of gratitude for something that would come so naturally to them.
I have had a "Pink" in my life, and even though it has been a great many years since she has passed on, I still think of the power of the love that she so readily expressed and the lesson of the truthful color she left in her wake.
Hopefully, even if pink is not our natural color, we would be fortunate enough to have even a sliver of that magical color as part of our soul being.

About The Author: Kitty

Kitty is a Canadian Intuitive, born into a large family of clairvoyants and clairaudients. A local celebrity, she's been giving accurate predictions in her paper for over fifteen years now, and is often called upon to lead séances and provide readings at Psychic Fairs in Vancouver. A trained counselor, she combines her natural Gifts to detect blockages at their root, and provide detailed psychic information and practical advice for success and happiness. She's helped locate missing items and people, has communicated messages from loved ones who've passed on, and communicates with two Sacred Celestial Beings who are unerring in the startling information they provide. If you'd like to connect with this remarkable Intuitive, whose talent spans generations, you can find Kitty at PsychicAccess.com.