Shoes For The Wedding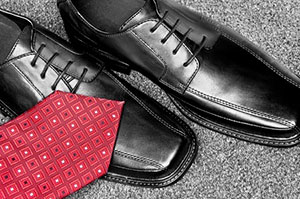 After my mother passed away, my father eventually remarried. My stepmother gave me some stuff one day that my dad didn't like. It was a pair of formal shoes and a tie. My dad thought it was ugly, but I did not mind.
So, I put the shoes and the tie in my closet. After my dad's passing they gained sentimental value for me. Once in a while I would take out the shoes and tie, when I had to dress up for a special occasion, but in time I completely forgot about them. Then my brother asked me if I would I be his best man. He was getting married to a lady name Janice, who I predicted he would marry a year earlier during a psychic reading. At the time he said I was nuts! He was done with women. So, when this wedding came up I reminded him of the reading the previous year, and he said: "I hate to admit it, but you were right."
'Don't matter if you believe in them or not. If they're there, they're there,' Mrs. Phipps said ~ Joan Lowery Nixon
Of course, I told him I would be honored to be his best man.  I then decided to get the shoes out and get them ready for the big event. I thought I would get the tie out also to wear. But when I looked in the closet, the shoes and the tie were gone!
I asked my wife and she said the last time she saw the shoes and tie they were in my closet. We looked everywhere in the house. Finally, I had to settle on wearing another pair of dress shoes and tie.
After the ceremony I smelled my dad's cigar smoke around me, but it was not as strong as it had been in the past. Soon after that day we had another family get together at my sister's house for Christmas. Everybody was talking about my brother and Janice getting married. But I was more interested in my young nephew Corben, who was looking intently at a picture in the family album to which the wedding photos had been added.
It was an old picture of my dad and my stepmother. When I looked at it closer.. there were those shoes and that tie! Then Corben said: "That man and woman were also at the wedding. I saw them standing next to you."  I told him it was my father, and his grandfather. Corben replied, "He was waving to me."
I guess dad needed his shoes and tie back for that wedding!
About The Author: Raymond

Growing up on the streets of Columbus Ohio, Raymond learned at a very young age that he was gifted in many ways, including the ability to read someone's eyes and using a regular deck of playing cards to read the future! His mother was from a Native American family, namely the Black Foot tribe, and his father was German. Raymond discovered that both sides of his family had a psychic legacy. Over the years he has gained additional knowledge from books and by talking to trusted family members. Raymond has been doing psychic reading for others for over 3 decades, and over the years he gained many loyal clients from all walks of life. Visit Raymond for a reading at PsychicAccess.com


One Response to Shoes For The Wedding