The Rosary Is A Powerful Tool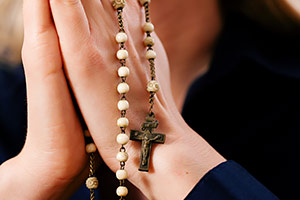 I look at so many people struggling, and so ready to get angry at the littlest things, so disconnected from the divine spark inside of them. I know a great tool to deal with this: I often pray the Rosary and thank God for all of the blessings in my life.
It really works for me. The promise of the Rosary is true, in that it will bring blessings into your life. It has brought so much goodness into mine.
I gave a friend, who is suffering from a horrible depression and feeling of incompleteness, a Rosary to pray. I found that she was happier after learning and praying the Rosary.
I wish I would have known about the Rosary many, many moons ago, but it's never too late to learn the Rosary and see what blessings it can bring into your life. It really works.
If you desire peace in your hearts, in your homes, and in your country, assemble each evening to recite the Rosary. Let not even one day pass without saying it, no matter how burdened you may be with cares and labors ~ Pope Pius XI
If you are struggling with negative people, energy, emotions or thoughts in your life, try it. You may find your life going in a better direction after you start praying the Rosary for yourself.
My intuition has been strengthened by the Rosary and I feel a greater peace and contentment when I pray. It shields me against evil, on all levels. It's a powerful wonderful tool in my own  spiritual practice and a method of psychic protection.
You don't have to be a Catholic to learn it and use it in your life. If you do, you will find it works and you may start praying it every day. You will begin to experience everyday miracles in your life.

About The Author: Moon Goddess

Moon Goddess is a third generation empathic healer and seer. She started to give healing readings to people more than 20 years ago. She has always been interested and studied all things metaphysical from a young age. Being hypersensitive she can feel and see things before they happen. Utilizing the Tarot, and with the help of her Guides, she is a source of support for many people all over the world. After he passed over, her grandfather kept his promise and came back to say goodbye and gave her the most amazing experience. Moon knows there truly is a Heaven, and it is wonderful! Sharing her experience has helped many people after they have lost someone, or anyone experiencing some form of grief. Get a reading with Moon Goddess now at PsychicAccess.com.