Can Best Friends Fall In Love?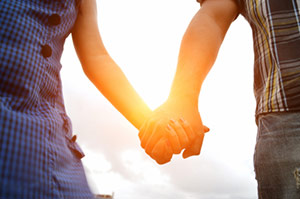 Is it possible for two people, who have been best friends for years, to fall in love? Can there be such a special bond or psychic connection between acquaintances? And after all the years of being best friends, do they have what it takes to ultimately experience the magic of love?
If a pair of friends have been sharing intimate thoughts and mutual hopes and desires, the chemistry is often there to begin with. There are usually also a good reason why these best friends never started to date. The main reason is typically due to timing or location, or they could be involved with someone else. How many times does your best friend send you a signal where you can feel they had been thinking of you?
Our soulmate is someone who shares our deepest longings, our sense of direction. When we're two balloons, and together our direction is up, chances are we've found the right person ~ Richard Bach
Best friends need to have an open mind when they experience this kind of bond with each other. They should step back and see what path God has put in front of them. When you build a relationship with someone in this special way, if it is meant to be, it will eventually come to pass.
Don't panic if you lose contact with that special friend for a lengthy time. If there is destiny in your friendship, you will take off again where you left off one day, and love and passion may just happen this time around. That best friend often comes back, and you both come to understand why each had to go your own way for a while.
When your soulmate returns to your doorstep and it was meant to be, you will see the the passion is there between you, and you will then both be truly ready. You will recognize the time for the unfolding of your soul agreement has arrived. To take it to the next level always trust your instincts. Share your deepest thoughts and feelings only when you feel the time is right. You will feel it in your heart and everything will simply fall into place.

About The Author: Raymond

Growing up on the streets of Columbus Ohio, Raymond learned at a very young age that he was gifted in many ways, including the ability to read someone's eyes and using a regular deck of playing cards to read the future! His mother was from a Native American family, namely the Black Foot tribe, and his father was German. Raymond discovered that both sides of his family had a psychic legacy. Over the years he has gained additional knowledge from books and by talking to trusted family members. Raymond has been doing psychic reading for others for over 3 decades, and over the years he gained many loyal clients from all walks of life. Visit Raymond for a reading at PsychicAccess.com