The Haunted Delights Of Music City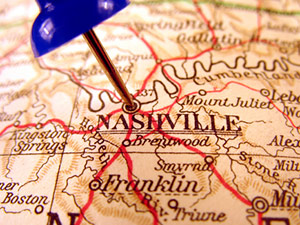 Many American cities claim their share of ghosts and haunted sites, and Nashville, Tennessee, also known as "Music City," is no exception. With the city's rich history from early Native American times through the Civil War, and the modern music industry, it's no wonder Nashville is haunted.
One of the more widespread sightings has been that of the ghost of Adelicia Hayes, a 19th century woman whose second husband built the city's famous Belmont Mansion. Security guards and others have reported seeing Adelicia. A psychic brought to the site said she was looking for some of her children who died in infancy. Even 'celebrity ghosts' have been spotted in Nashville! A worker who was accidentally locked in the Grand Ole Opry claims to have seen country great Hank Williams Sr.
Nashville, Tennessee moves beyond its country roots and embraces a new, multifaceted role as one of our country's leading arts-and-entertainment cities ~ American Way
Several of Nashville's great houses claim to be haunted. Among them are the Hawkins House, the Wilowen estate, the Two Rivers Mansion, and The Hermitage, home of President Andrew Jackson. In neighboring Franklin many say they have seen the ghosts of Civil War soldiers at the Carnton Plantation and Carter House.
Not every ghost is rich or famous. The old Donelson Hospital, which was previously a psychiatric hospital, has been the site of unexplained phenomena, such as doors slamming and strange chills in the middle of summer.
There are many haunted places to see in and around Nashville, from cemeteries to recording studios and mansions. While it might be difficult to see them all in one day, ghost tours are offered to take in at least a few by lantern-light. The different tour options include a Haunted Tavern Tour and a guided ride in a vintage hearse. If you're more into self-guided tours, pick up a copy of Haunted Nashville by Frankie Harris or The Nashville Haunted Handbook.
Who knows which ghost you might meet on your journey through Nashville? A president? A Native American warrior? A Civil War nurse? Maybe even Elvis Presley! Just keep in mind that many of the sites are private property; always be sure to get permission first before visiting.
About The Author: Mystic Shelley

Mystic Shelley is a five-star psychic, Reiki healer, clairvoyant and empathic reader. She offers her clients honest answers about past, present and future events with the help of her trusted guides. She reads in the area of love, relationships, career, money and all matters of life. Mystic Shelley was born with talents that would later mark her as a gifted psychic, but she chose not to embrace them early on. In her 30's, a not-so-chance meeting with a celebrated psychic set her on a course that awakened her gifts. Born with the gifts of clairvoyance and empathy, her psychic mentor helped her to expand those abilities, taking her talents to the next level. With experience came proficiency and today she has a growing list of devoted clients who sing her praises. In addition, she's also actively assisted other psychics to open up to their abilities. If you are looking for direct and honest answers get a reading with Mystic Shelley now at PsychicAccess.com