The Moon Cycles And How They Affect You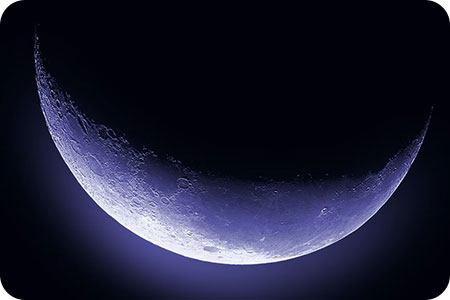 Every month, the Moon waxes and wanes creating different changes and cycles in the world, as well as in our personal lives.
Many people are familiar with the monthly full moon as a time of elevated emotions, but there are other phases to be mindful of, since they also affect our energy levels and feelings.
During a full moon, for example, you may realize that you have an abundance, or lack of energy.
The new moon occurs when it is invisible to the human eye. It is a wonderful time for new beginnings in relationships, business, making positive changes and setting goals. The new moon would be when you add something new, or remove the existing problem to strengthen yourself.
The waxing moon is the cycle when it begins to grow in size. Learning, creative projects, healing and transformation are all powerful themes during this time.
The full moon becomes an accumulation of the feelings and energies that have been building since the new moon. Wishes can come true, or unexpected events can shake us up for better or worse
The moon will guide you through the night with her brightness, but she will always dwell in the darkness, in order to be seen ~ Shannon L. Alder
The waning moon is when the size begins to decrease preparing for the new moon. Letting go, cleansing, releasing,  resting,  recovery and reflection are favored as opposed to starting anything new just yet.
Starting your own moon journal to see how its monthly cycle affects you, could bring some interesting insights and a better understanding of your emotional and spiritual self. I try not to let Astrology dictate my life, but important aspects should be taken into consideration to produce the best results, especially when the Moon is involved!

About The Author: Laura

Attracting people from all walks of life, Laura has always been the type others come to for advice and direction. An initiated shaman, she's helped others to transcend fear and resolve dark aspects to achieve greatness in life and overcome limitations from the past.Spiritually, she's a mixed bag of traditional meets mystical, blending the best parts of Christian, Jewish and Muslim faiths with intuition and magic. She's been referred to as a witch, but considers herself a shaman. She uses her psychic gifts and divination tools to help you see the truth, awaken your spirit and overcome any problem. Contact Laura for a psychic reading at PsychicAccess.com