The Ancient Art Of Possum Bone Casting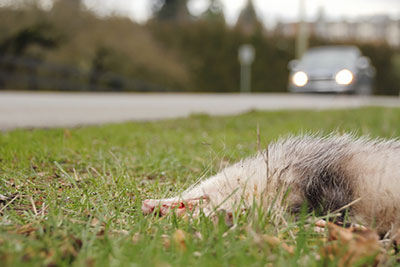 I have spent some time exploring ancient forms of divination. It made me realize one can use just about anything, from bones to rocks, or even animal intestines – anything that may be handy at the time.
A few years back a friend of mine moved from Maine to New Orleans. We are connected on Facebook, so I decided to contact her to see how she liked living in New Orleans, and what she was doing for work. Much to my surprise she said, "I'm doing bone readings in the French Quarter of the city." Well, that certainly peaked my interest.
I have since began studying the art of bone casting. As with anything, I found lots of ideas and several different opinions on the matter. Using my own intuition, I settled on learning to read possum bones. They are said to be the real deal, but I have never seen a possum in the state of Maine (even though I'm sure possum is here.)
Divination is turning out to be much more trouble than I could have foreseen, never having studied the subject myself ~ J.K. Rowling
So, the hunt was on to get me some authentic possum bones to work with. I thought this would be easy; something one might find easily online? I mean, you can find almost everything to buy on the Internet these days. Well, it turns out that to get the real deal, it is not really that easy.
In my research, I found the best way to get hold of some possum bones is to get a possum and cook it! Yeah. Then you pick out the bones yourself. Reason being, who could be sure if the bones sent by mail order were real possum or last night's dinner of chicken? Not that there is anything wrong with reading any kind of bones for divination.
So, the hunt began all over again. My sister and her husband winter in Florida. Possums are plentiful in that area, so I felt sure they could find just what I wanted. Not a live one, of course, but one in the form of 'road kill." It is said you never kill a possum just to get the bones. Again, not so easy.
They asked several neighbors to be on the lookout for some dearly departed possum, but even with several people looking for about a month, not one was seen. Which is very unusual for that area in Florida? I guess possums just never get run over?
Well, finally, as luck would have it, two days before they were going to leave Florida, on route to the supermarket, one was there… right in the middle of the road. Yes, it had already crossed over to the spirit world. It seemed like it was meant to be, as the possum was only nicked in the head which left almost all of the bones perfectly intact.
I am forever grateful for my brother in-law for being, what one would call, a real 'Mainer.' He did all the work of getting the bones prepared for me to work with. In my research, I found that people may use possum bones in divination, because possums are nocturnal by nature, often spotted near or in graveyards. Thus the possum may be closer or more connected to the spirit world.
I began to see that when one employs an oracular tool such as the runes, mental energies come into play, bringing to us the wisdom and information that we seek ~ P.J. Caiden
Possums seem to be more plentiful in certain areas and states. In some areas people eat them. What may repel one person, is another person's delicacy. Many people all over the world are brought up eating food that others would never dream of tasting. Many of these customs and rituals are also passed down from one generation.
Of course, some purists believe that possum bones is the only authentic way to do bone readings. In my opinion it does not matter what divination tool you choose to use. It's all about setting the intent for the highest good, or what would be the best or most useful information for the sitter to come through. When I teach a class, I want my students to experience a lot of different ways to achieve the connection with their own higher self and the spirit world.
The hardest thing to master is to trust what information you receive. It is always up to the individual whether they accept the advice or reject it. It is always hard to deliver a message that is not what the sitter wants to hear at the time. It is usually what the sitter needs to hear. It is my belief that an advisor will try to deliver messages as kind as possible, no matter which tools the prefer to use.

About The Author: Elizabeth

Elizabeth's talents go back several generations. She found her own gifts and embraced them at an early age, recognizing the difference between herself and most others around her. She's since honed and mastered many metaphysical practices, providing hypnotherapy, Psychic Mediumship, Mysticism, and Hypno-Reiki to her clients in Maine, and in areas around the US and in Canada, where she travels. A lover of pets, they are her greatest teachers and these unconditionally loving creatures often chime in on a reading in addition to the Angels, Guides and loved ones who provide resolution and answers for each of her clients. Elizabeth is also an author with much spiritual wisdom to impart and is currently working on a book. If you'd like to be a recipient of her unique Psychic Wisdom, find peace and receive answers that will also benefit your highest good, you can reach Elizabeth at Psychic Access.


This site uses Akismet to reduce spam. Learn how your comment data is processed.