The Role Of Dreams In Our Lives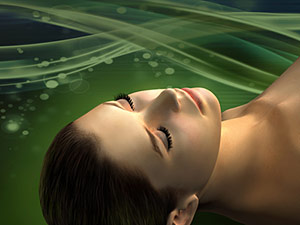 Dreams are a very powerful tool in our spiritual lives. I sometimes receive calls from clients concerned about their dreams. If you search in books, or on the Internet, you will find that there can be many generic interpretations of a dream. But the best way to get to the heart of the matter, is to have your unique dream interpreted by a dream interpreter or psychic reader.
When I do dream analysis I would ask the client questions about the dream, for example if it was in color or black and white. I feel that dreams come partly from the heavens, but also from what had happen to you that day. I had a dream once about a client's voice and later that day got a call from that person – and they had something happen to them. I know that some dreams can go very deep if you're in the last stage, when you're sleeping. And if you have the TV on, that can affect your dream at that time.
All that we see or seem is but a dream within a dream ~ Edgar Allan Poe
Why do we dream? Can dreams help us to communicate with someone who passed on? Can dreams open us up to the present. Can dreams protect us from the future? I believe it can do all these things.
I heard on talk radio show a couple months back about big rock band before they got famous. The lead singer for the band had a dream about a song, and it was so vivid that it woke him up. He started to play it on his piano and it became a song titled Dream On, their first big hit.
Experts say that dreams often help us sort out ideas or questions in our everyday lives. When I was younger I loved to invent and I had a dream about a outdoor game that I decided to make a board game of for playing inside. I never got around to putting it on the market, or made money from it. I still have it today, maybe I should look it over and see if I can make it better.
There are reasons why we have dreams. It might not make sense, but there a reason why we have them. You be the judge of your dreams and their meanings.
About The Author: Raymond

Growing up on the streets of Columbus Ohio, Raymond learned at a very young age that he was gifted in many ways, including the ability to read someone's eyes and using a regular deck of playing cards to read the future! His mother was from a Native American family, namely the Black Foot tribe, and his father was German. Raymond discovered that both sides of his family had a psychic legacy. Over the years he has gained additional knowledge from books and by talking to trusted family members. Raymond has been doing psychic reading for others for over 3 decades, and over the years he gained many loyal clients from all walks of life. Visit Raymond for a reading at PsychicAccess.com


<!div id="networkedblogs_nwidget_logo" style="padding:1px;margin:0px;background-color:#edeff4;text-align:center;height:21px;"><!a href="http://www.networkedblogs.com/" target="_blank" title="NetworkedBlogs"><!img style="border: none;" src="http://static.networkedblogs.com/static/images/logo_small.png" title="NetworkedBlogs"/><!/a><!/div>