Manifesting Ritual For An Extra Monthly Income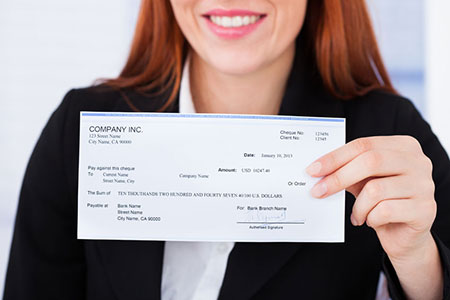 This manifesting ritual will help to keep some extra money flowing to you on a monthly basis. Most of us write out checks to others, and authorize automatic payments or debit orders for monthly bills. So, why not write a check for our ourselves for a change?
SUPPLIES
A blank check
A green candle
Sandalwood incense
PREPARATION
This ritual is best done on the first day of the month, or the day you regularly pay your bills. Wear red for this ritual to invite the Universe to 'cash' this check for you. Play reggae, zydeco or pop music to liven up the energy.
THE RITUAL
Sit at your desk with your monthly bills gathered in front of you. Light the sandalwood incense and then use it to light the green candle.
Take the blank check and make it out to yourself by dating it and writing your name in the space that reads, Pay To The Order Of.
Keep expecting and believing that your due season is coming. Declare that the good you have harvested in your life will manifest ~ Germany Kent
In the amount line indicate the amount of additional money you will need, or would like for the month. Or simply write the word Infinity, followed by the Infinity symbol (a horizontal figure 8).
On the signature line sign it as, The Law of Abundance. On the 'for' line at the bottom left of the check, write or sign your name.
Store the check in a safe place (your manifestation box is ideal for this purpose), where you can return to it each month to see how well it had paid off!

About The Author: Susyn

Susyn lives in New Mexico, and offers Psychic Guidance, Astrological Insights and Channeled Messages that will change your life! Her credentials are top-notch and include a doctorate in metaphysical studies and certifications from The American Association of Professional Psychics and The American Tarot Guild. She's also a published author, with two metaphysical books under her belt, and has authored numerous articles and horoscope columns. In addition to her readings, Susyn is also a mentoring practitioner who teaches others how to master their own gifts, raise their vibrations, and empower themselves. A sought after guest on numerous radio programs, she has also hosted her own radio show. If you're looking for one of the truly bright shining stars who can also read them with an accuracy that will astound, look no further. You can find Susyn at PsychicAccess.com.