The Divine Light Within You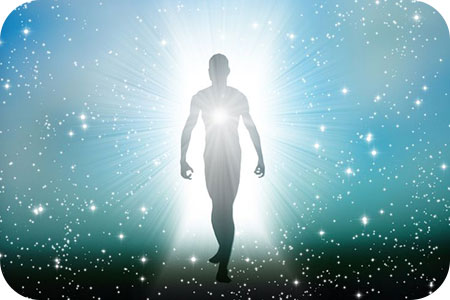 Namaste. This is a term that is often used in Yoga practices and certain spiritual services. The word itself is a salutation which means, "The divine light in me honors the divine light in you." Often people will say this unconsciously. However, it is a spiritual truth that should remind us of the value of our own light and the light of others.
The truth is that you are the light of the world and you always have a choice to honor that light, or hide that light. Spiritual teacher, activist and author, Marianne Williamson, writes, "Our deepest fear is not that we are inadequate. Our deepest fear is that we are powerful beyond measure. It is our light, not our darkness, that most frightens us."
The main block to experiencing your own light is fear and the main freedom from fear is love. You are here to be a service to the world. You incarnated for this reason. In fact, we are all here serving each other. Even when something terrible has happened, it gives us an opportunity to see what happens when love is not present within an action.
Light is how we see the world. This is true in the natural world, as well as the metaphysical world. When we recognize our ability to produce light, we then see what is really going on in our circumstances. We begin to recognize what we are holding on to from our past that no longer serves us and we become more open to opportunities for the future.
Let your light shine today, and let your personality blossom, too. You don't have to be a people-pleaser, just a people-lover ~ Beth Moore
Therefore, nearly every spiritual tradition talks about forgiveness as the highest expression of love. Forgiveness and love are both representations of our own light. When we choose to practice these things, we are owning our own power and moving beyond our past limitations.
I recommend using this affirmation when you first get up in the morning: "I own my own power. I allow the light in and I express my light everywhere I go. I am the light of the world."
I would recommend doing this for a week and see what happens.  When we embrace our light, we are able to shine it on our circumstances. We can then see what is actually taking place in our lives and opportunities naturally emerge within our circumstances that increase the quality of our lives.
We are all meant to shine, as children do. It's not just in some of us; it's in everyone. And as we let our own light shine, we unconsciously give other people permission to do the same. As we are liberated from our own fear, our presence automatically liberates others ~ Marianne Williamson
Everything can become our teacher. The best of things and the worst of things. Overcoming our challenges can often help us transcend to the next level of understanding. Living in the Namaste allows us to see all circumstances, people, places, and things as a reflection of our own consciousness and light.
When we don't accept our light, or we keep it hidden, we are blinded to the good that exists all around us. We become more fearful, frustrated, and distressed by what we think is missing in our lives. When we embrace our own love and our own light, we begin to see that nothing is truly missing. We may need to make changes consistent with our desire, but these changes then become easy.

About The Author: Cosmic Coach

Cosmic Coach (James) has mastered many techniques in his psychic practice to connect with the unique heart center of each of his clients. He is a Reiki Master of many traditions, who is adept at crystal healing, card readings, and delivering detailed messages from Angels and Guides. A Christian Minister, a teacher and an Energy Guide, living in Michigan, James is always expanding the base of his knowledge to broaden his reach and serve as many clients as possible. To experience a unique reading personally designed for you, you can find Cosmic Coach at PsychicAccess.com.


One Response to The Divine Light Within You